CHENNAI: Five months after at least 14 top IAS officers, including chief secretary and finance secretary, gave approval for Rs 2,000-crore optical fibre Bharatnet tender, the approval has been withdrawn by the signatories saying it was not required in the first place.
Of the 16 executive committee members of the Tamil Nadu Infrastructure Development Board (TNIDB), 14 had approved the project in December 2019. The board headed by chief secretary has secretaries from the departments of finance, public works, industries, rural development, revenue, environment and law as members.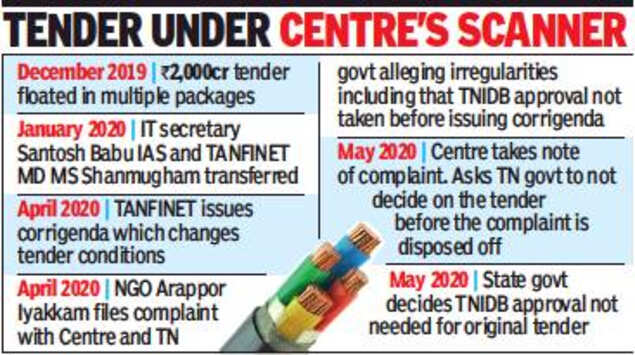 The development comes as tender bids for the project are scheduled to be opened on June 5.
Arappor Iyakkam, an NGO involved in fighting corruption, had red-flagged changes made to the original tender by way of a corrigendum alleging that it was done to favour two companies. The Union government's department for promotion of industry and internal trade (DPIIT), which is probing the allegation, had asked the state government not to finalize the tender until the grievance is disposed of.
In keeping with the legal requirement that any TN infrastructure project worth more than Rs 500 crore must be approved by the TNIDB, the state government took the approval of the board before floating the Rs 2,000-crore tender in December 2019.
However, in April 2020, TANFINET, the state government body executing the project, added a corrigendum to the tender document increasing the financial eligibility for bidding companies by 300%.
Explaining this, a senior IAS official told TOI that Section 1(3) of the TNID Act states that the board's approval was not needed for projects undertaken by the Union government or a central public sector undertaking or its joint venture with a state government. "The state government realised that this project is completely owned by Bharat Broadband and Network (a telecom infrastructure provider coming under the department of telecommunications). Hence it doesn't need the TNIDB's approval. This new information came to light only now," the official said. Sources said a Chinese company is also in the fray.
Arappor Iyakkam convenor Jayaram Venkatesan told TOI that this was a clear indication of a cover-up after they had raised issues of corruption. "Originally they said TNIDB's approval is needed and now they are saying it is not needed. This proves their malafide intention," he said.