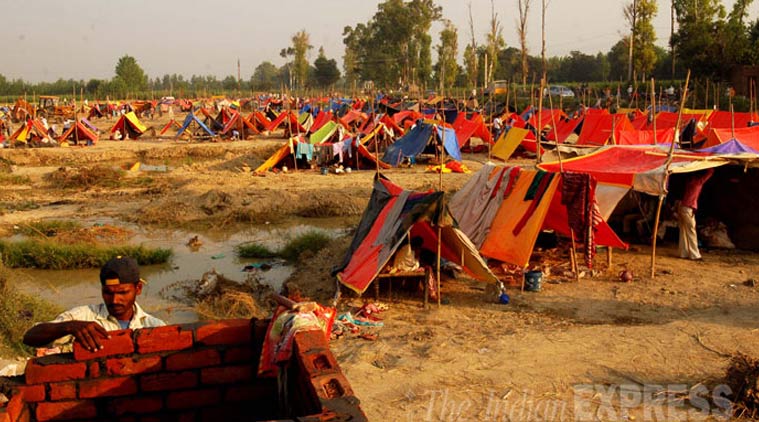 Refugee camp in open field at Malakpur village in Muzaffarnagar. (Source: Express photo by Gajendra Yadav)
The SIT probing the 2013 Muzaffarnagar riots has completed its investigation in all cases except in seven, including one against BJP MLA Sangit Som.
The Special Investigation Team has completed its investigation in 503 cases out of 510, Additional Superintendent SIT, Manoj Jha said.
The investigation in the remaining seven cases has not yet been completed as the SIT has not received technical reports sought from a laboratory, regarding those cases.
The pending cases include one against BJP MLA Sangeet Som, who was accused of uploading a video which reportedly sparked communal tension in the district and neighbouring areas.
1,481 accused, who were involved in the riots have been arrested, including 25 persons accused in the six gangrape cases.
The SIT has filed closure reports in several cases including in the murder of journalist Rajesh Verma.
A one-man inquiry commission of Justice Vishnu Sahai was appointed by the state government on September 9, 2013 to probe into the riots, which has yet to submit its report.
More than 60 people were killed and more than 40,000 were displaced in communal violence that broke out in Muzaffarnagar and neighbouring areas in September, 2013.
📣 The Indian Express is now on Telegram. Click here to join our channel (@indianexpress) and stay updated with the latest headlines
For all the latest India News, download Indian Express App.