Written by
Arshad Ali
| Kolkata |

Updated: July 2, 2015 4:09:18 pm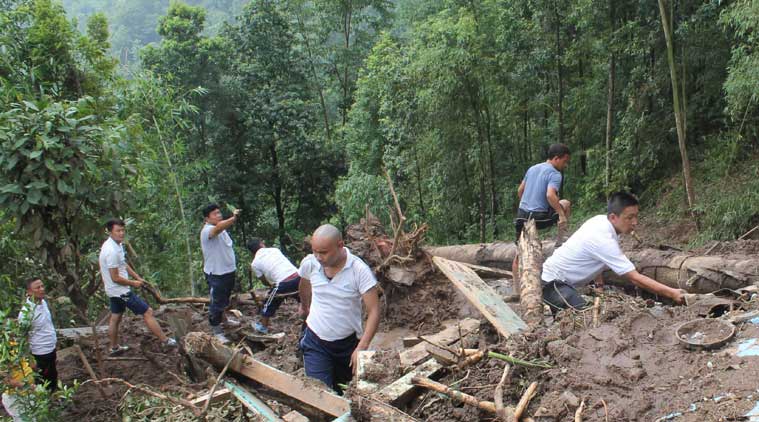 Rescue operations were underway in three subdivisions of Darjeeling district where multiple landslides have claimed 38 lives besides washing away highways and damaging homes. (Source: Express photo by Subham Dutta)
A series of landslides triggered by overnight heavy rain left at least 38 people dead, 23 missing and more than 500 displaced in West Bengal's Darjeeling district on Wednesday. The landslides at 25 places in Darjeeling, Kalimpong and Kurseong sub-divisions also washed away portions of highways, including a bridge, cutting off the road link to the region.
READ: Deeply pained, says PM; Mamata rushes to be amid the affected
According to officials in the state disaster management department, 22 deaths occurred in Mirik, where 13 people were also reported missing. The remaining 17 died in Kalimpong, Lava, Sukhia and Gorubathan areas, they said. Twenty persons were reported injured and 15 missing at 8 Mile and 11 Mile areas in Kalimpong, sources said, adding that extensive damage has occurred to NH-10 and NH-55.
Massive mounds of loosened earth came hurtling down the slopes, swamping houses on hillsides. Videos showed homes perched on slopes caving in before crashing into the ravines in a heap.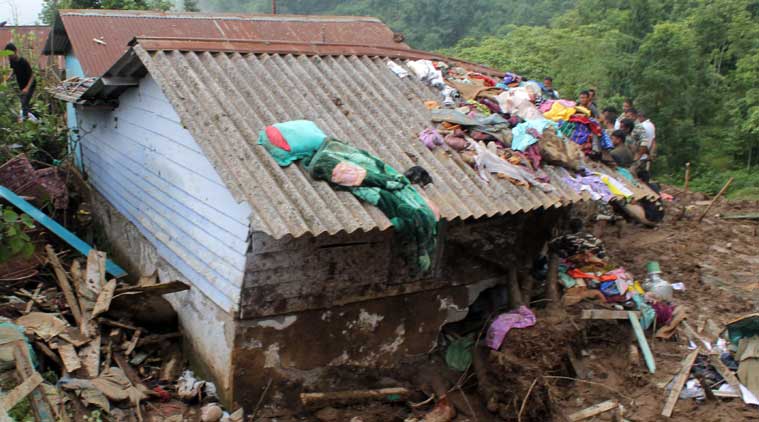 With no rains lashing the hills today, National Disaster Response Team, Civil Defence personnel and local volunteers began rescue work in the affected areas. (Source: Express photo by Subham Dutta)
Among the first to launch the rescue and relief operations were personnel from 41 Battalion of Sashastra Seema Bal (SSB).  B D Sharma, DG, SSB said, the jawans had recovered 15 bodies while some more were still trapped under mud and slush. The jawans also managed to pull one person alive from beneath the debris, the DG added.
IG, SSB, Kuldip Singh, who personally supervised the relief and rescue operations from Siliguri, said that the worst landslides occurred along the India-Nepal border with the biggest one near Mahendra Bazar in Mirik.
Personnel from Border Roads Organisation (BRO) were also engaged in clearing the blocked roads even as North Bengal Development Minister Gautam Deb said Army's help has also been sought to step up the rescue and relief efforts. "We are trying to reach the worst affected areas," he added.
Chief Minister Mamata Banerjee, who was in Murshidabad district to attend an administrative meeting, rushed to Darjeeling to monitor the rescue and relief operations. In a Facebook post, she put the death toll at 30 and the number of missing at eight.
"As reported till now, 30 precious lives have been lost and 8 persons are missing. I have been monitoring the situation very closely since this morning and providing with all necessary assistance from the administration to the affected areas," she said.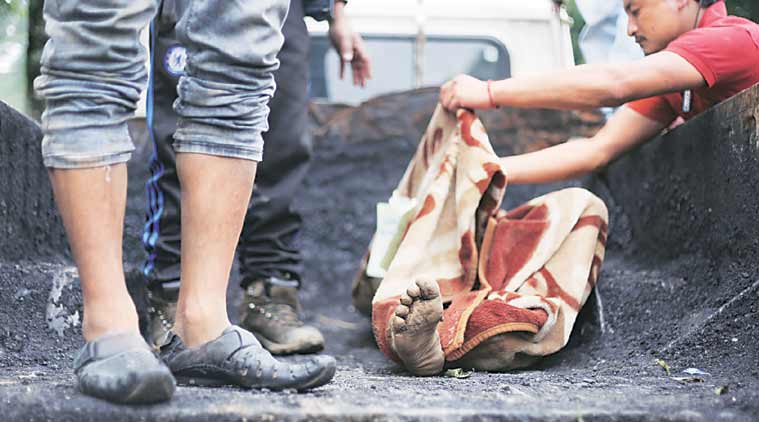 Rescue officials recover a body on Wednesday. (Source: Express Photo by Mikma Lepcha)
Meanwhile, Prime Minister Narendra Modi directed Union minister Kiren Rijiju to visit Darjeeling to take stock of the situation. Union Home Minister Rajnath Singh also called Mamata and assured her of all central assistance in relief and rescue operations, sources said.
Singh told Mamata that two teams of NDRF, each comprising 100 men, have been dispatched for rescue operations.
While the PM announced a compensation of Rs 2 lakh each to the families of the deceased, Mamata  announced Rs 4 lakh ex-gratia. GTA, too, announced a compensation of Rs 2 lakh for the families of the deceased.
Deeply pained at the loss of lives due to the landslides in Darjeeling district. Condolences to the families of the deceased.

— Narendra Modi (@narendramodi) July 1, 2015
A compensation of Rs. 2 lakh from the PMNRF would be provided to the families of the deceased.

— Narendra Modi (@narendramodi) July 1, 2015
MoS Home Shri Kiren Rijiju is going to the locations to take stock of the situation. A team from NDRF is extending all possible support.

— Narendra Modi (@narendramodi) July 1, 2015
📣 The Indian Express is now on Telegram. Click here to join our channel (@indianexpress) and stay updated with the latest headlines
For all the latest India News, download Indian Express App.