NEW DELHI: An 88-year-old woman was stabbed to death while her 94-year-old husband was tied up during a robbery at their residence in south Delhi's Safdarjung Enclave area on Saturday evening.
The deceased, identified by police as Kanta Chawla, was stabbed in the neck. Her husband and former foreign ministry official B R Chawla's hands and legs were tied with a bed sheet. The couple had been living on the upper ground floor of the three-storey building.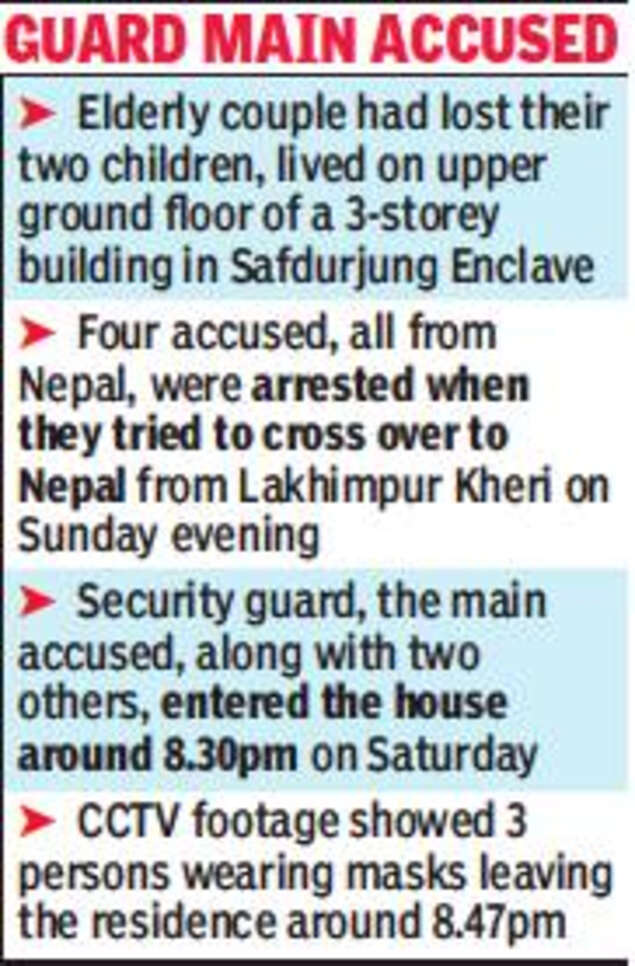 Four accused, all from Nepal, were arrested on Sunday. They were identified by cops as Rajesh (20), the security guard, his cousin Om (18) and two of his friends — Pramod (26) and Gajendra (23). Police recovered Rs 55,000 in cash and jewellery from their possession.
Devender Arya, DCP, south-west, said, "Security guard Rajesh had been missing and his mobile phone was switched off too. When a police team reached his place in RK Puram, his relatives said he had not contacted them since Saturday afternoon." During investigations, police learned that since the lockdown, several people from Nepal working in Delhi had hired taxis to reach Lakhimpur Kheri in Uttar Pradesh and then crossed over to Nepal, Arya said.
South Delhi robbery that led to murder of 88-year-old was planned in advance
It was found that Rajesh and Pramod had booked a taxi for Lakhimpur Kheri on June 18. When police contacted the driver, he said he had dropped the two near Gauri Phanta, around 35km from the border, around 5am on Sunday, he said.
"While one team was headed for his village, Dharasi, in Nepal, another was rushed to Kheri. The border opens around 9am. They were arrested when they tried to cross the border around 1pm," said Arya.
The accused had planned the robbery in advance and had asked a taxi driver to pick them up from near Safdarjung hospital around 9pm on Saturday.
Pramod was waiting in the taxi, the other three went inside the house to commit the crime. According to police, the three had switched off their cellphones around 6.40pm. In CCTV cameras, three persons wearing masks can be seen leaving Chawla's residence around 8.47pm.
As per CCTV cameras installed at the building, Rajesh can be seen letting two men enter the premises around 8:30pm. They were let in by Kanta since Rajesh was the security guard. The couple was in their living room when they were attacked, police said, adding Kanta was stabbed with a kitchen knife when she tried to stop them.
Rajesh was hired through the couple's domestic help a fortnight ago.
Though the house had three bedrooms, the accused only ransacked the one having almirahs. The victim's husband managed to untie himself and informed people in the third floor.
Jitendra Kumar, the guard at the lane, said, "I was called by people living in the third floor and rushed to the house. BR Chawla asked us to keep Kanta's body on the bed. She had a stab wound on her hand and neck and was lying on the carpet. We called RWA people, who, in turn, called police."
The couple had been living in their area for quite some years. Their elder son died about 15 years back, while the younger one passed away around four months back in the US, police said.