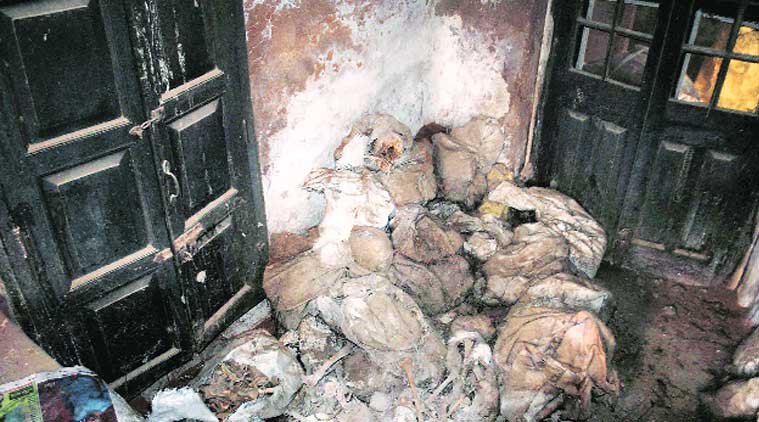 Human skeletons found in a room at Reserve Police Lines in Unnao district on Thursday. (Source: PTI)
Even as Uttar Pradesh police was grappling with the unearthing of over 100 human skeletons in Unnao, reports of similar shocking recoveries on Sunday came from Bahraich, Gorakhpur and Moradabad districts of the state.
In Bahraich, scores of sacks containing human remains and viscera have been found in a room in police lines area, prompting authorities to launch a probe.
"Sacks carrying a large number of human bones and other remains were found from a room in the police lines," District Magistrate of Bahraich Abhay Kumar Singh said.
Singh said he has asked the city magistrate to set up a team to probe the matter and submit a report within a week.
"5,793 post mortem examinations were carried out in the room from 1950 till date, and the remains were not disposed of," the DM said.
Similarly, a heap of human bones and containers carrying viscera were recovered near old post mortem house in Gorakhpur, an official said.
Also read: 78 viscera samples, 47 bones and other body parts found at Unnao
"Viscera and bones were being stored in the old post mortem room near police lines since 1969 where an intelligence office has been constructed," Chief Medical Officer Gorakhpur P K Mishra said.
Additional Superintendent of Police Satyendra Kumar said the CMO should have made proper arrangement for storage of viscera and bone samples till the legalities were completed.
Meanwhile, SSP Pradeep Yadav has constituted a committee which will probe into the matter.
In similar recovery, sacks containing bones and viscera were found in Moradabad after which an inquiry has been ordered.
Also read: Human skeletons, body parts found at Unnao police lines, DGP seeks report
The Uttar Pradesh police went into a tizzy last week following the recovery of 47 gunny bags stuffed with human bones and 74 jars containing viscera from a room in the police lines in Unnao, which is over 80 km from Lucknow.
An inquiry was ordered and the committee tasked with probing the matter has submitted its reports to the UP government.
Sources in the Home department said autopsy was done in that room till 1993 and viscera was being preserved till 2008.
IG (Law and Order) A Satish Ganesh has said that according to local authorities, the room was used for conducting post mortem examination before 2008.
Shocking visuals of the skeletons went viral in the media and the matter quickly assumed political colour with opposition parties suspecting a foul play and blaming the Samajwadi Party government.
Unnao had recently hogged the headlines after over 100 bodies were found from the Ganga river near Parihar ghat in Safipur in the district.
📣 The Indian Express is now on Telegram. Click here to join our channel (@indianexpress) and stay updated with the latest headlines
For all the latest India News, download Indian Express App.