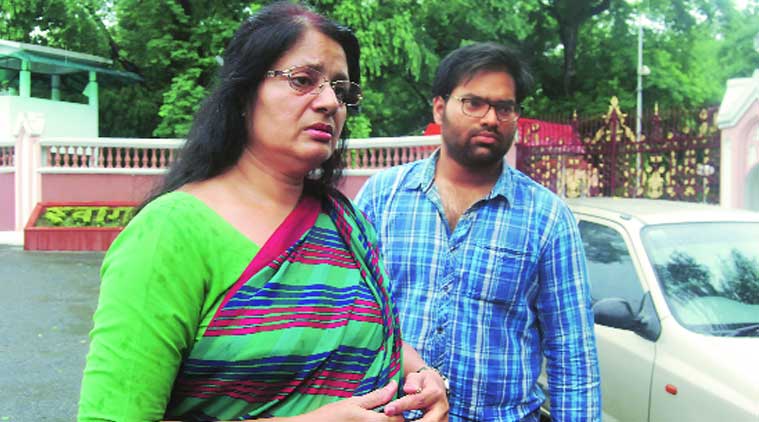 Sara's mother and brother outside the Raj Bhavan, in Lucknow on Thursday. (Source: Express Photo by Vishal Srivastav)
UP Governor Ram Naik has written to Chief Minister Akhilesh Yadav seeking action on an application from Seema Singh demanding a CBI probe into the death of her daughter in an alleged car crash. In a letter dated July 16, the Governor said he was told by Seema that her daughter was allegedly murdered by her husband Amanmani Tripathi on July 9 and that her death was made to look like an accident.
Seema met Naik at Raj Bhawan on July 16.
Amanmani, currently in jail in connection with another case, is the son of former UP minister and murder convict Amarmani Tripathi.
The Governor wrote in the letter that Sara's postmortem was not videographed and there was a mark of "tightening" (strangulation) on her neck.
"…External injuries not being highlighted in the postmortem raise questions about the fairness of the investigation, and indicate towards the murder," Naik wrote in his letter.
📣 The Indian Express is now on Telegram. Click here to join our channel (@indianexpress) and stay updated with the latest headlines
For all the latest India News, download Indian Express App.