HYDERABAD: Even as it was combating novel coronavirus pandemic, the state government transferred two officers of health and family welfare (H&FW) department on Wednesday night. Special chief secretary (H&FW) A Santhi Kumari and public health commissioner Yogita Rana have been transferred to relatively less important postings.
While Santhi Kumar has been sent to the forest department, Yogita Rana was transferred to the SCs development (SCD) department. The government has also shuffled some IAS officers.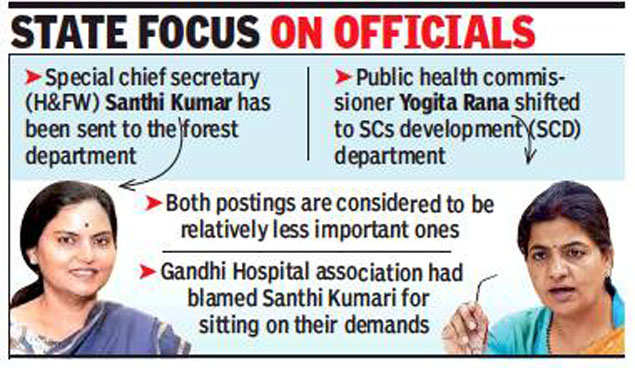 Official sources said the government was unhappy with the officers, especially Santhi Kumari, in handling with the coronavirus situation. Secondly, both Santhi Kumari and chief secretary Somesh Kumar belong to the same 1989 batch.
"Since there was a coordination problem between them, the chief minister has asked the CS to take over coordination of Covid-19 cases after the recent visit of a central team to the state. He has been attending press conferences and meetings along with health minister Eatala Rajender in the recent past," a senior official said.
Docs assn: Will go on strike from July 20 if pay not revised
Meanwhile, Telangana Government Doctors' Association (TGGDA) served a strike notice on director of medical education Dr K Ramesh Reddy on Wednesday, saying that they would go on a strike at Gandhi Hospital and medical college from July 20 if pay revision is not implemented by July 19. While TGGDA representatives visited the CMO on Wednesday, they were assured that action will be taken at the earliest.
The association had previously represented to the CMO over the delay and had blamed Santhi Kumari for sitting on the file for over a year. She was also blamed for not clearing many other key files pertaining to promotions. "This has led to low morale among doctors and many have switched over to private hospitals," said an insider.
In a related development, Syed Ali Murtaza Rizvi, a 1999 batch IAS officer, currently in Telangana Bhavan, Delhi, has been made secretary of health department. Vakati Karuna, who held commissioner of family welfare department earlier, was brought back to the same post. The government also relieved another special chief secretary Chitra Ramachandran from additional charge of school education and appointed Adilabad district collector A Sri Devasena as director of school education.
Special CS Adhar Sinha, who has been waiting for posting for the past six months, was sent to EPTRI relieving Rajat Kumar from the additional charge. Rajat Kumar has been kept incharge for environment and science and technology. Another special CS I Rani Kumudini was sent to labour, employment and training department. Peddapalli district collector Sikta Patnaik has been transferred as collector of Adilabad. KS Srinivasa Raju has been made secretary of youth, tourism and culture department.
E Sreedhar, who was collector of Nagarkurnool district, has been posted to the tribal welfare department and L Sharman was sent as collector to that district. Jyothi Buddha Prakash has been asked to continue as additional chief electoral officer in Telangana State Election Commission.