By:
Sports Desk
| New Delhi |

Updated: June 3, 2020 7:04:26 pm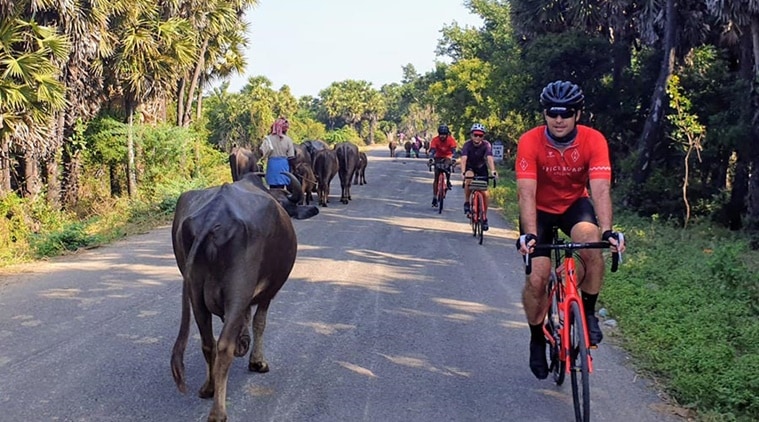 Decathlon India has witnessed a significant increase in bicycle sales in the past two weeks. (File Photo/Spice Roads Cycling Tours)
June 3, declared as World Bicycle Day by United Nations in 2018, has taken on added significance this year, with the Covid-19 pandemic having made public transport a health hazard.
Yash Raj Films tweeted a gif starring Shah Rukh Khan and Kajol with the caption "Riding down the memory lane!" to acknowledge World Bicycle Day.
Film producer and National Film awardee Nila Madhab tweeted: "One of the best modes of travel known to mankind, sustainable, environment friendly and also keeps you healthy and fit, let's encourage cycling more."
Poonamben Maadam, BJP MP from Gujarat's Jamnagar, tweeted: "Cycling is one of the easiest ways to fit into your daily routine. Riding a bicycle regularly will reduce the risk of health problems associated with a sedentary lifestyle. #WorldBicycleDay is the perfect way to start with this new lifestyle."
Several other prominent personalities, such as Karnataka-based politicians NA Haris and Sowmya Reddy, and organisations such Nagpur Police also tweeted about the importance of cycling.
Lockdown
The need for mobility and physical exercise in the lockdown has led to an increase in cycling. Additionally, with the risk of contagion high in public modes of transport in the prevailing Covid-19 situation, many people without the means to buy motorised vehicles are now buying bicycles.
Decathlon India, the Indian division of the French sporting goods retailer, has witnessed a significant increase in bicycle sales in the past two weeks.
READ | Girl cycles father 1,200 km to Bihar — and hope follows
"With public transport still being a feared space, bicycles come in handy when it comes to maintaining much-needed social distancing. A lot of conversation during the lockdown revolved around building a stronger immune system and physical fitness. Cycling is the easiest way to start and it is a pocket-friendly solution keeping in mind the economic situation post the lockdown," said a spokesperson from Decathlon.
The online keyword searches for bicycles has increased by over 80% percent in this period. On the occasion of World Bicycle Day, several organisations associated with cycling are carrying out special campaigns.
'Switch to cycling'
A spokesperson from Decathlon said, "We're running the #CommuteBicycle campaign on all our social media platforms to educate and let people know about the benefits of cycling. From facts to advice on choosing the right bike, we're hoping this will help the general public in making an informed choice and switch to cycling."
On World Bicycle Day, I call upon people to promote the use of cycle as it is a simple, affordable and environment-friendly means of transportation.

There is a need to develop a culture of cycling in view of its beneficial impact on health & climate. #WorldBicycleDay pic.twitter.com/JU2Ws1FHjm

— Vice President of India (@VPSecretariat) June 3, 2020
"We also wanted to get the message out on how the majority of our bikes are made in India in an environmentally-friendly way. We are providing the best bicycles, with value-for-money being our main promise. Make in India makes this possible," he added.
READ | 'Cycling is the simplest and fastest way to navigate Indian roads'
Decathlon India also expects cycling to become the new normal with an increase in cyclists on the road.
Their spokesperson said, "Since the unlocking, we see a boom in the bicycle business for Decathlon in India as well as globally. It has emerged as one of the best performing sports categories in Decathlon. We believe the leisure bicycle segment will continue to grow as many more people will opt for cycling as a leisure activity or commuting option."
Written by: Shubhang Gopal
📣 The Indian Express is now on Telegram. Click here to join our channel (@indianexpress) and stay updated with the latest headlines
For all the latest Sports News, download Indian Express App.
© IE Online Media Services Pvt Ltd