Written by
Irena Akbar
| Meerut |

Published: October 19, 2014 2:07:29 am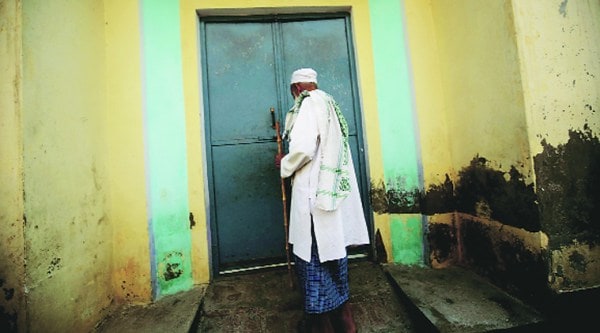 The father of one of the accused at Sarawa in Meerut district. Source: PRAVEEN KHANNA
Three-year-old Ayan has not seen his father Nawab in two months. His mother Farida tells him Nawab is in hospital, taking care of his ailing father. The toddler plays in the courtyard of a large house in Sarawa village, Meerut, but is careful not to disturb a group of women sitting on a mat in a corner. They are reciting the Quran and "praying for the end of our ordeal", says Farida, who has held many such prayer sessions since August 3.
Baqaullah is 75. He never thought at his age he would be running around for bail for his son Sanaullah and daughter-in-law. They called his son a cleric and arrested him. "He is a farmer like me, he is no cleric. Party-baazi ke chakkar mein kuchch bhi bol dete hain yeh log (for the sake of politics, these people cook up anything)." Baqaullah has five other children, including three sons. "I tell my grandsons to stay away from girls."
Vasila can't hold back her tears as she talks of daughter Nishat. The family had been planning for the 20-year-old's wedding. "She was due to get engaged in August and married in October. After her arrest, the boys' family called off the engagement. We had spent Rs 1 lakh in gifts."
Kaleem's family says the "20-year-old" was picked up at midnight on August 7. "Musalmanon ki koi nahin sunta. Utha ke le gaye, jail bhej diya, jab ki uska naam na FIR mein hai na ladki ke statement mein (No one listens to Muslims. They took him away, put him in jail, even though his name was neither in the FIR nor in the girl's statement)," says uncle Chand. "Now that she has come clean, Insha Allah, he will be released soon."
Nawab, Sanaullah, Nishat and Kaleem are four of the 10 who have been behind bars for more than two months since a Hindu woman, who had been teaching at a madrasa in Meerut district, claimed she was gangraped at madrasas and forcibly converted. On October 12, the woman retracted her statement, saying her family had threatened her into making the charges and that she had gone with Kaleem on her own.
The trial in the case began on October 16 in a local court, and the next date of hearing is October 28. The woman's retraction, before the police and city magistrate, is the first glimmer of hope for the 10 accused, opening up doors for bail. One of the accused, Naveen, charged with helping prepare papers for "conversion" of the woman, has already got bail.
Nawab, a doctor and the Sarawa village pradhan, was the family's main breadwinner. His elder brother doesn't earn much with his "wood business" and the younger one is idling at home. Farida says she has had to borrow money to pay the school fees of her children. She has four daughters and four sons.
Nawab was arrested soon after he had conducted the last rites of his father, says Farida. The next day, Nawab's name was flashed by the media as one of the accused in the alleged gangrape of a 20-year-old of the village.
The family applied for bail some time back and the next date of hearing is October 21. Farida doesn't often go to Abdullahpur jail in Meerut city where Nawab is lodged with the other accused, but her two brothers-in-law visit him every week.
Vasila has visited Nishat only a few times in jail. Her husband, a retired Railways employee, and two sons who "are into transport business" visit her every week. She denies Nishat tried to convert the woman and says she knows no "Aleem-Kaleem".
Kaleem, in fact, was not mentioned in the original FIR. His name surfaced on August 8, when the UP police said he was recorded as the woman's "husband" at Meerut Medical College. The woman was admitted there between July 23 and 27 — the period during which she alleged she was gangraped at a madrasa by Sanaullah and Nawab — and operated upon for ectopic pregnancy.
Kaleem's village is Uldhan, 2 km from Sarawa. He belongs to a family of paneer makers. He had stopped studying after Class XII and helped out in his family trade.
Kaleem's uncle Chand denies any knowledge of the woman or her relationship with Kaleem, and says his nephew is innocent. The villagers, both the Hindus and Muslims, agree but say it was "immoral" of Kaleem to go around with a woman.
None seems to have ever seen the two together, but all admit to having heard of their relationship. "I heard she used to meet him secretly. Just a couple of days back, she walked across the fields barefeet to meet his family. After meeting them, she went to the police to retract her statement," claims one Kailash Chand.
Kaleem's uncle Chand says he has "no opinion" on 'love jihad', though he is sad that villagers "gossip and laugh behind our back". He has met Kaleem in jail, Chand adds, and found him "in despair".
The woman is now at Meerut Nari Niketan, refusing to return to her parents. Her father admits she has declined to even meet them, and has heard that she told the magistrate she wants to marry Kaleem.
"I would never allow her to marry a Muslim, but since she is an adult, I cannot stop her. If she marries Kaleem, we'll go to court and sever all relations with her," he says.
While he admits to taking money from Hindu right-wing organisations, he adds that was for her treatment.
Farida remarks at the irony of it all. "They tried to malign us," she says. "Look how things have turned out, their own girl stands the most maligned today."
📣 The Indian Express is now on Telegram. Click here to join our channel (@indianexpress) and stay updated with the latest headlines
For all the latest India News, download Indian Express App.