JAIPUR: Since the inception of Bhiwadi as a separate police district in Alwar, the name Vikram has given sleepless nights to police.
Already facing criticism after Vikram, alias Papla Gujjar, escaped from lockup, three different criminals having first name Vikram have terrorised the public and police. However, police managed to nail down and arrest three of these criminals wanted in the cases of murder, attempt to murder, extortion and arms Act violations. Now, police are waiting for a happy ending of their drive named 'Operation Vikramaditya' with the arrest of elusive Papla.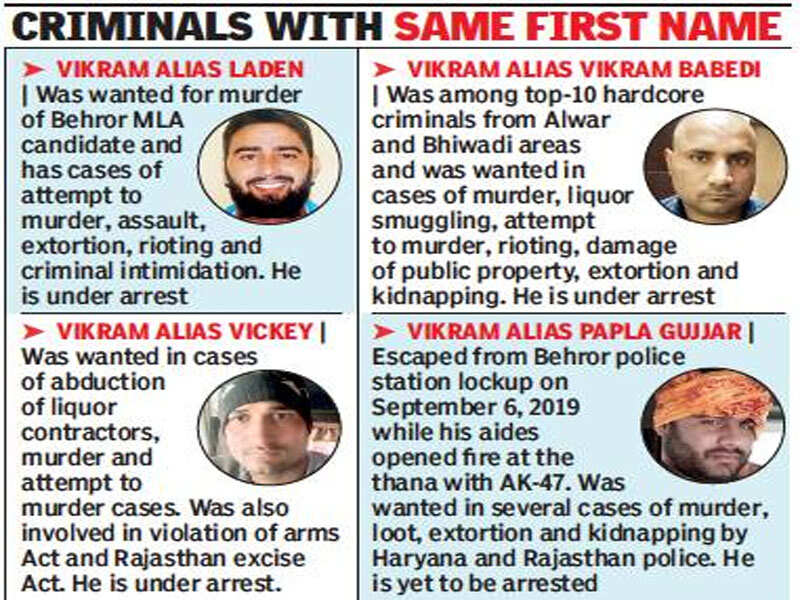 As soon as Alwar district was bifurcated into two police districts including Alwar and Bhiwadi, senior police officers came to know about three notorious criminals having rewards on them.
"We had Vikram alias Laden, Vikram Gujjar and Vikram alias Vicky. All of them were from Bhiwadi district. Thus, we planned of an operation called 'Operation Vikramaditya' which was aimed to collect information and evidence to nail down all of them. And the fourth one Vikram alias Papla Gujjar is also our target," said Amandeep Singh Kapoor, Alwar SP, said.
On the kind of crimes these three Vikram were involved, Kapoor said, "They were wanted for cases of murder, attempt to murder, extortion, assault, criminal intimidation and violations of arms Act. So, while we were on the job of tracing Papla, we managed to find and arrest all these Vikram one by one," he added.
"The first one Vikram alias Laden was arrested by our team on January 28 this year. This was followed by the arrest of Vikram Gujjar in February along with Vikram alias Vickey on February 2," he added.
Such was the terror in the minds of public and police that even a petty pickpocket named Vikram was grilled to find his other affiliation in crime. "Once we had caught a thief whose name was Vikram. We interrogated him to check if he has other criminal antecedents too," he added.
Now, police are working to end their operation with the arrest of Vikram alias Papla Gujjar. "We have got some clues on which we are working. Nothing much can be shared. Will talk about him when we arrest him," said an officer.