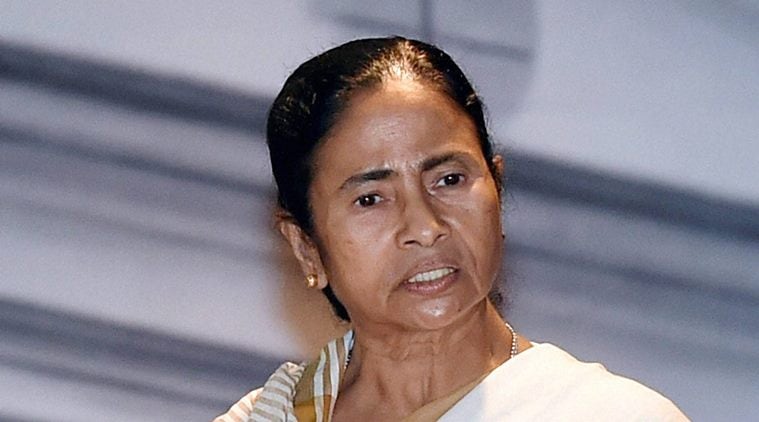 West Bengal Chief Minister Mamata Banerjee.
CHIEF MINISTER Mamata Banerjee on Monday said that the government did not have funds to pay madrasa teachers and at the moment, could only give recognition to madrasas.
"Unrecognised madrsas might apply for recognition and we will give them recognition… but at the moment, we have a severe dearth of funds and thus, will not be able to pay any money to madrasa teachers. Once I have enough money and opportunity, we will start paying madrasa teachers," Mamata said at an event organised by the state minority department at Netaji Indoor Stadium in Kolkata. She added that once madrasas get recognition, there would be several ways of raising funds.
Muslim leaders, who were present at the programme, however reacted sharply to the CM's comments. Furfura Sharif pirzada Taha Siddiqui told The Indian Express: "What is the point of giving recognition if teachers are not paid? I have also demanded reservation for Muslims in terms of education and jobs. If madrasa teachers start a movement, I will be glad to be a part of it."
Qari Fazlur Rehman, the imam who leads Muslim conglomeration on Eid namaz at Red Road, also said that it was the duty of the state government to arrange for resources. "She (Mamata) has blamed paucity of funds but if this is an essential expense, the state will have to look for ways to arrange the money. She can't just wash her hands off," Rehman said, adding that he might address the matter in his speech on the occasion of Bakr-Eid on September 25.
Syed Mohammed Nurur Rahman Barkati, imam of Tipu Sultan Masjid, and a close aide of Mamata termed the CM's statement as unfair. "If you are giving recognition, you must also pay the teachers. I will talk to the CM… I will suggest that Waqf properties, worth thousands of crores across the state, be used to generate revenue and pay madrasa teachers. If not, this could make her unpopular among Muslims," he added.
Heads of Muslim organisations too expressed their dissatisfaction. "This will lead to a loss of faith among Muslims for the Trinamool Congress government. She had given a lot of assurances before she became the CM but now, she refuses to make good of those promises," said Mohammed Qamruzzaman, general secretary of All Bengal Minority Youth Federation.
Warning that a movement will be organised within a week, Unaided Madrasah Bachao Committee secretary Absul Wahab said: "She (Mamata) is ignoring the high court order of November 27, 2013, which has stated that if any madrasa is given recognition, the state is supposed to give it financial aid. The CM has funds to pay clubs for utsavs and hooch death victims but when it comes to paying teachers, she has no money."
📣 The Indian Express is now on Telegram. Click here to join our channel (@indianexpress) and stay updated with the latest headlines
For all the latest India News, download Indian Express App.