CHANDIGARH: Another
death due
to
Covid-19
was reported on Wednesday, taking death toll to 11 in the city. This is the third death in this month. A 78-year-old man from Sector 19, who was tested positive for the virus at the Civil Hospital, Sector 6, Panchkula, on July 14, has died of the virus.
He was a patient of chronic heart disease with coronary stenting. He was at the Civil Hospital in Panchkula for last three days and was administered oxygen support. He has four family contacts and a maid. With this, the mortality rate is now 1.78%.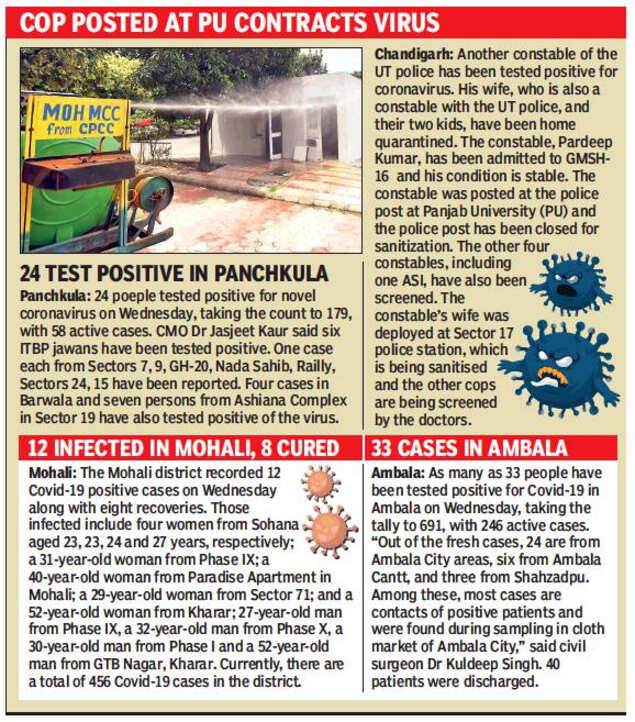 "We will do screening of all those who have acute respiratory illness and influenza-like illness," said Dr G Dewan, director, health services, UT.
Meanwhile, besides a death, 18 persons have been tested positive of the deadly virus. These include two residents from Sector 46, two from Bapu Dham Colony in Sector 26, two from Sector 29, three from Sector 48, two from Dhanas and two from Burail. While the others are one each from Sectors 38, 25, Khuda Alisher, Sector 63 and Raipur Khurd. Also, 13 patients were discharged on Wednesday. This takes the active cases to 149.
Mohali DC issues fresh orders
The Mohali DC has issued revised orders under Section 144 of the CrPc. Social gatherings shall be restricted to five persons and guests at marriages shall be restricted to 30 and funerals to 20 persons.