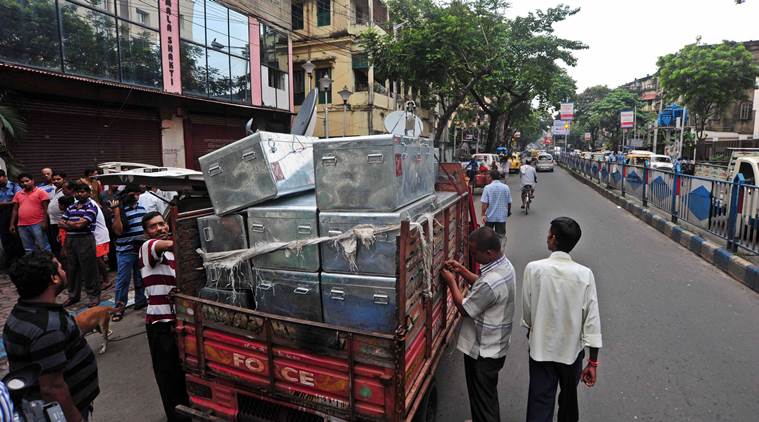 "The money was seized shortly before it was to be sent to Dubai through hawala channels," said a senior CBDT officer. (Source: Express photo)
The Central Board of Direct Taxes (CBDT) Thursday claimed to have recovered almost Rs 50 crore in cash, stashed in gunny sacks and almirahs, as part of a crackdown in Kolkata and Siliguri against lottery and hawala dealers suspected to be channeling illegal funds to Dubai.
The operation was launched in early hours at nine locations based on inputs provided by the Intelligence Bureau about an alleged fake lottery racket being run in West Bengal and Tamil Nadu, an official said. The premises are owned by two firms identified as G Systems and F P Enterprises, they said.
"The money was seized shortly before it was to be sent to Dubai through hawala channels," said a senior CBDT officer.
The officials said that the search teams, led by the sleuths of Kolkata I-T investigations wing, recovered about Rs 50 crore cash from 16 gunny bags, 27 travel bags and two almirahs from different locations in Kolkata and Siliguri. They said the teams, comprising about 100 members, have deployed around a dozen machines to count the currency notes. "Investigators have so far counted Rs 45 crore cash and the amount may go up to Rs 55 crore," they said.
Officials said the entire racket could be worth about Rs 1,000 crore and some lottery kingpins are under the scanner.
"The money, which was being laundered, had at their source illegal businesses. We believe that apart from the lottery business, retails shops were also used as fronts. It is entirely possible that some of the money has already left the country," said an officer.
The officials said that a few executives of the two firms — G Systems and F P Enterprises — are being questioned. The firms could not be reached for comments.
Meanwhile, PTI reported that the central agencies have put two alleged lottery kingpins, identified as S Nagaarjuna and Santiago Martin, under scanner. It said that Martin was apprehended by Enforcement Directorate about two years ago in Chennai and Rs 7 crore in cash had been seized from him.
A senior police officer said that the raids began early in the morning, starting with the office premises on Sarat Bose road area. Other teams raided shops at Subhash Market area in Siliguri.
A highly-placed Kolkata police officer said various teams, consisting of members of STF and its anti-bank fraud section, helped the tax department sleuths conduct the raids at five places in Kolkata. A few locations in Siliguri were also being searched even as the teams have recovered and seized a number of documents including bank accounts and business receipts.
[With PTI inputs]
📣 The Indian Express is now on Telegram. Click here to join our channel (@indianexpress) and stay updated with the latest headlines
For all the latest India News, download Indian Express App.