CHENNAI: Tamil Nadu's Covid-19 surge continued on Wednesday with Chennai alone reporting 1,012 of 1,286 fresh cases as the state's tally shot to 25,872 and the death toll touched 208 with 11 more casualties.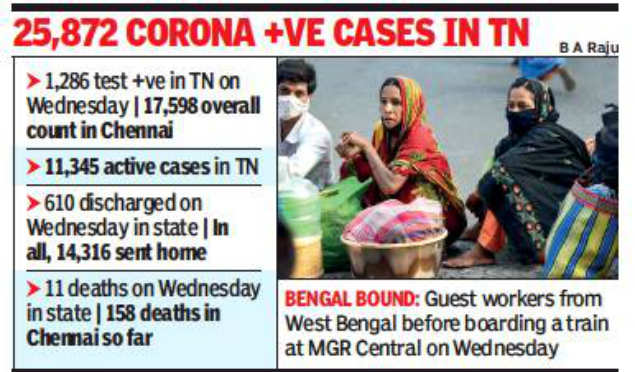 "We are in the midst of a pandemic and the number of cases is bound to go up. But our recovery rate is more than 50% and death rate is below 0.8%," said health secretary Beela Rajesh.
Since its first case was reported on March 7, TN had battled two clusters Tablighi Jammaat, which had more than 1,300 positive cases, and Koyambedu market, which accounted for more than 3,000 cases. Now, people returning from other states and abroad are forming a third cluster, accounting for more than 1,700 cases since April 9. On Wednesday too, 42 of the fresh cases were returnees.
But there are more than 18,000 people outside these clusters, most of who were living in crowded zones within Chennai such as Royapuram and Puliyanthope.
The city's overall case tally touched 17,598 and there have been 158 deaths so far. At the airport, 15 international passengers (two from UAE and 13 from Dubai), four domestic passengers (three from Gujarat and one from Karnataka) tested positive on Wednesday. Among those who travelled by train and road, there were five from Delhi, two from Karnataka and 16 from Maharashtra who tested positive.
Besides the 1,012 cases in Chennai on Wednesday, the city's neighbouring Chengalpet had 61 cases, Kancheepuram 19, and Tiruvallur 58.
At a time when doctors and epidemiologists are asking the state to ramp up testing, the state knocked off the details about the number of people tested from the media bulletin. It, however, said 14,101 samples were tested.
Maharashtra is the only other state to cross 25,000 cases, which it did on May 13 when it recorded 25,992 cases, 15,747 in Mumbai alone, and a death toll of 975. On Wednesday, Maharashtra had a case tally of 74,860 cases and 2,587 deaths.