CHENNAI: The CBSE Class X exam results, declared on Wednesday, brought cheer to Tamil Nadu where 99.61% of students passed, highest in the country. It was followed by Andhra Pradesh (99.44%) and Kerala (99.30%).
Of the 62,260 students who appeared for the exam from Tamil Nadu, 62,019 passed — 99.85% girls and 99.42% boys. Among the regions, Thiruvananthapuram topped with 99.28% passing, followed by Chennai region with 98.95%.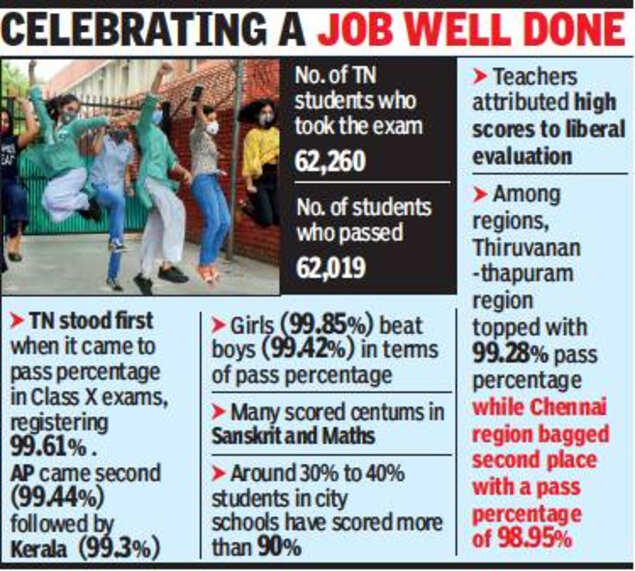 P Harini of PSBB Senior Secondary School in KK Nagar, Chennai, who achieved a top score of 499 out of 500 marks got full marks in English, Hindi, maths and science. "I understood the concepts well and repeat study helped me score high marks," she said, adding that been preparing for Neet since Class IX. "I always wanted to help others and my parents, both doctors, were my inspiration," she said, adding that she liked to listen to music to relax.

Lavanya Vasudevan, who scored 496 out of 500, said she was overwhelmed. "Teachers motivated and clarified my doubts whenever I approached them. Completing lessons helped to score high marks," said the student of Modern Senior Secondary School, Nanganallur.
Students of many city schools scored centums in maths and Sanskrit.
R Srinivasa Raghavan, principal of Bala Vidyamandir Senior Secondary School in Adyar, said that of the school's 106 students who appeared for the exam, 44% scored above 90%. "On an average, students secured more than 85% in many subjects. Mathematics and Sanskrit had many centums."
Bhavan's Rajaji Vidhyashram too recorded impressive results. "Of the 261 students who appeared for the exam, 108 secured more than 90%. There were 17 centums in maths and 12 centums in Sanskrit," said principal P G Subramanian.
Some teachers felt students could have done better in science and social science.
"The science results were a little disappointing, as a majority of those expected to score full marks lost it by 6-7 marks," said Shoba Raman, principal of Vidya Mandir where the highest score was 489.
The science paper was a bit tricky and different from the answer keys students prepare with, she said, adding that 14 students scored centums in maths, and some scored full marks in Sanskrit.
At Chinmaya Vidyalaya, where the highest mark was 490, principal P Vijayalakshmi said they expected centums in social science too, but students lost it by a mark or so. There were 17 centums in maths, she said.
At Vels Vidyashram, most students chose science stream and a few took biology, said prinicipal Vasanthi Vishwanathan. "Interestingly, we've had very few inquiries for commerce," she said, adding that 67 of 234 students scored 450 marks and above.