CHENNAI: Flying has become a hassle as the final flight schedule released one day in advance does not match the ones uploaded on online travel sites for booking.
Passengers are not able to plan their trips in advance because most often the flights they have booked online are getting shuffled and people get a message a day before departure that the flight will depart an hour earlier or a few hours later in the day.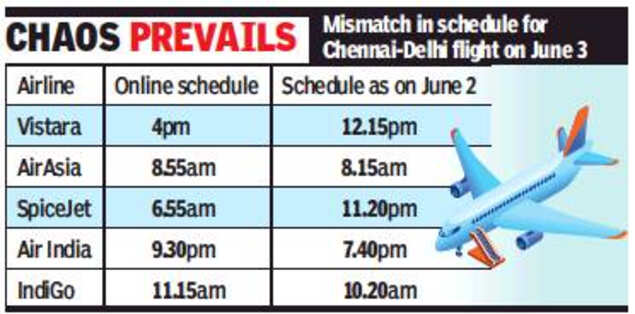 This has been the situation for the last few days. There was mismatch in the departure time posted on online sites and the time posted in the final list of flights for June 3, released on Tuesday.
For example, departure time of a Chennai-Delhi flight which was shown as 6.55am on online booking sites was shown as 11.20pm on the final schedule released on Tuesday evening. There is also change in flight number too.
An Airports Authority of India (AAI) official said that flight schedules are finalized by airlines only one day in advance because of the restrictions imposed by state government in Tamil Nadu and also at the destination state. "There is a mismatch but there are no cancellations like it used to be last week. The airlines are informing the passengers," he added.
Nevertheless, this last minute changes and inability of the airlines to put together a schedule at least a week in advance is causing confusion among the passengers. And those who wait for the final schedule to book a ticket have to pay more. Oneway tickets on Chennai to Delhi flights on Wednesday (June 3) were in the range of Rs 6,000 to Rs 12,000 for booking on Tuesday morning.