Written by
Raakhi Jagga
| Ludhiana |

Published: November 2, 2019 8:54:04 am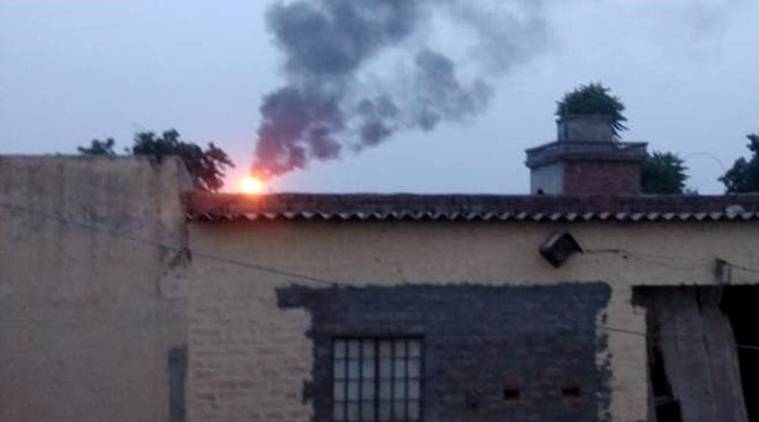 Smoke from the Guru Gobind Singh Refinery can be seen from Kanakwal village, in Bathinda. (Express Photo: Gurmeet Singh)
A village in Bathinda is feeling the effect of the rising air pollution and they blame the Guru Gobind Singh Refinery located in Talwandi Sabo constituency of the district for that.
"I monitor air quality index (AQI) on my phone every day. An air quality monitor is located in the village, because we are the closest to Guru Gobind Singh Refinery. The AQI has remained over 350 for the past 10 days. I have sent emails to Punjab Pollution Control Board office at Patiala and Bathinda but have got no reply. They are not bothered it seems," said Bhakhar Singh, numberdar of Kanakwal village.
Buta Singh, sarpanch of the village said, "Our village used to have 2500 acres of agricultural land. In 1997-1998, after land was acquired for the refinery, only 1400 acres was left for farming. We grow cotton as our land is not fit for paddy. Not more than 70 acres of land is used for paddy farming. Hence we are not contributing to farm fires at all. The department needs to find out reason behind the high AQI in our village. Is it because of refinery or is because of some other reason? They need to respond to us".
The sarpanch further said that in 2013, the villagers had started a dharna for several days and even had stalled the working of the refinery for few days as we were fed up of air pollution levels of the refinery. "However after that the then state government led by SAD-BJP combine had proposed complete relocation of village from this area. Several meetings had taken place in this connection with authorities, but nothing worked out except for showing us a few sites. The plan is lying in cold storage as of now. Out of 350 houses in the village, only 150 have residents. The others have shifted to Bathinda city or other areas for work. Now we are fed up with staging dharnas. We don't know if we will get any solution or not," he added.
Skin problems, irritation in eyes, sore throat, breathing problem are the common ailments being faced by the villagers. "This area falls in cotton belt. The nearby villagers too mostly grow cotton. Paddy cultivation here is bare minimum. We face breathing problems throughout the year and not just during the paddy harvesting season. We have asked officials a number of times to stay in our village for few days and get a first-hand experience," Buta Singh said.
Contacted, Karunesh Garg, chief environmental engineer, PPCB, said, "I have got the air quality of refinery checked and it is within permissible limits. I know that the area falls in cotton belt where burning of fields is not done, but still the pollution can be attributed to air from Haryana as this area is close to Haryana border. However, we will get the details checked again".
Garg confirmed getting emails from villagers, but did not specify the reason as to why no replies have been sent till date. Despite repeated attempts, PPCB chairman Satwinder Singh Marwaha could not be contacted.
📣 The Indian Express is now on Telegram. Click here to join our channel (@indianexpress) and stay updated with the latest headlines
For all the latest Ludhiana News, download Indian Express App.