JAIPUR: Covid-19 claimed the lives of nine persons in the state while 252 tested positive bringing the infected count to 8,617 and the number of deaths to 193.
Three deaths were reported from Sirohi, while two deaths each were reported from Jaipur and Jodhpur and one death each was reported from Pali and Sikar.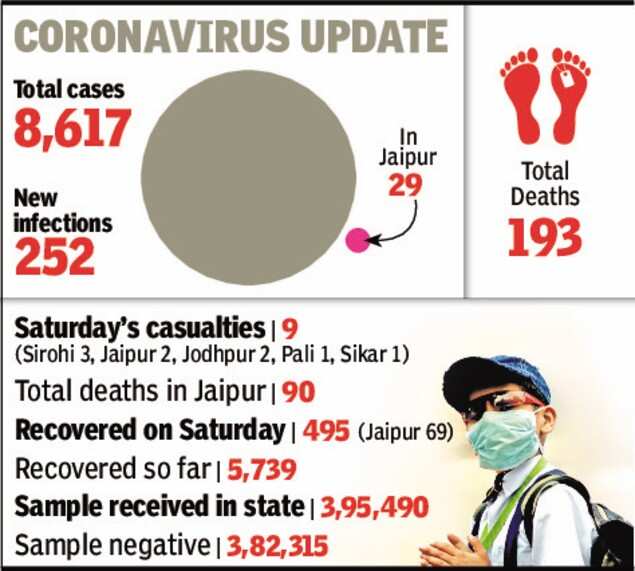 Taking note on the practice of some private hospitals denying treatment to Covid-19 patients, the health department on Saturday issued an advisory directing them to provide treatment and not to refer them to government hospitals.
In the advisory, the health department directed all private hospitals, which are enjoying different kinds of relaxation from the state government, to provide free treatment to Covid-19 patients.
Districts which reported new cases are Pali (41) Jodhpur (34), Jaipur (29), Bharatpur (25), Dungarpur (17), Sikar (15), Kota (12), Sirohi (10), Udaipur (9), Churu (8), Ajmer (7), Jalore (7), Baran (7), Barmer (7), Karauli (4), Bhilwara (4), Dholpur (3), Jhalawar (3), Jhunjhunu (3), Nagaur (2), Jaisalmer (2), Sriganganagar (1), Bikaner (1), Hanumangarh (1).
Meanwhile, 495 more persons have been cured of Covid-19 taking the total count of such persons to 5,739. The count of infected migrants has increased to 2448 in past 30 days.
In Jaipur, three cases each were reported from Ramganj, Shastri Nagar and Ghat Gate. Two persons each were found infected from Sikar Road and Chaura Rasta, while one person each tested positive from Janakpuri, Malviya Nagar, Galta Gate, Chandpole, Meena Paldi, Jai Bhawani Vihar on Kalwar Road, Jagatpura, Jhalana, Gurjar Ghati, Agrasen Nagar, Johri Bazaar, Manoharpur, Chhoti Chauper, Dagar Road, hotel Swagat and SMS Hospital.
After a government employee was found to be positive, 10 employees of the department were sent for home quarantine.