Written by
Hamza Khan
| Lucknow |

Updated: May 12, 2015 7:52:29 am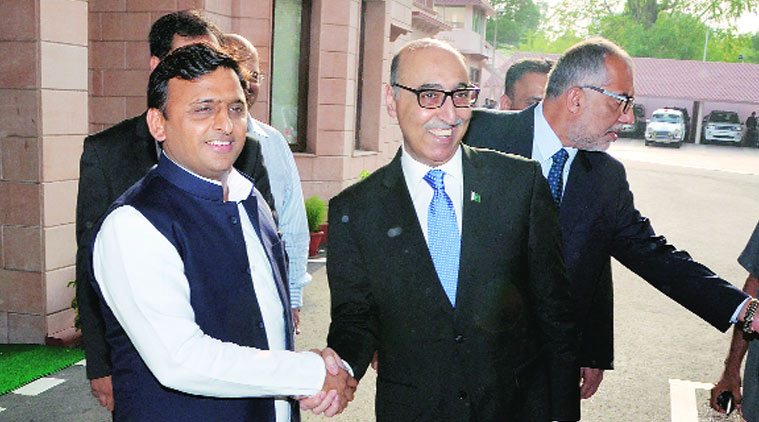 Chief Minister Akhilesh Yadav greets Pakistan High Commissioner Abdul Basit ahead of a meeting at his official residence, in Lucknow on Monday. (Source: Express photo by Vishal Srivastav)
Hours after Union Home Minister Rajnath Singh said in the Parliament that India has credible information about Dawood Ibrahim's presence in Pakistan, the country's High Commissioner to India Abdul Basit yet again claimed that the underworld don is not in his country.
"Iske baare mein itna hi keh sakta hun ki wo sahab Pakistan me nahi hain, isse zyada main kya kahun (I can only say that he is not in Pakistan)," Basit said at a press conference in Lucknow.
Reacting to BJP MP R K Singh's comment in the Lok Sabha against the India-Pakistan cricket series scheduled in UAE later this year, Basit said: "Some things are intangibles, you can't necessarily see their benefit. When sporting ties slowly improve, the benefits also begin to show."
Answering a question on Mumbai terror attacks, he said that "nobody can justify a terror attack". "We arrested seven persons for Mumbai attacks and the trial is on. You may disagree, but we are pursuing it with all seriousness. But you have to respect our law and legal procedures. Even if he (Zakiur Rehman Lakhvi) is out on bail, it doesn't mean that he has been acquitted. We can't reach premature conclusions," he added.
Basit also said that the Kashmir problem was "not an issue of terrorism". "This has been going on since 1947 and if you say it is due to terrorism, I would not agree with you. We should view an issue in a proper context," he said.
Earlier, Basit was chief guest at a FICCI conference and spoke on numerous issues that concern both nations.
"Sometimes it pains me that I do not find appreciation of our (efforts to deal with) problems stemming from terrorism in Pakistan. India mein woh appreciation nazar nain aati mujhe Pakistan k hawale se, jo hum log suffer kar rahe hain; we have lost our mothers, sisters and children…Terrorism is a big issue for both nations. No nation has suffered as many casualties as Pakistan, after Afghanistan, in the last 35 years. As many as 50,000 people have been killed, including 5,000 security personnel," he said, adding that as per the World Bank report Pakistan has incurred over hundred billion dollars of losses in the last ten years.
Basit added that terrorism is a common challenge for both nations. "If you have complaints against Pakistan, we also have some complaints," he added.
Basit further said: "The dilemma between India and Pakistan for the last 67 years is that we are caught in a syndrome where we take one step forward and two steps back. I think the time has now come to get out of it once and for all, and that can happen only if we are determined, because only then can we realistically think of a relationship that can absorb political shocks."
Speaking on trade between the two countries, he said: "The volume of bilateral trade is rather miniscule at 2.7 billion USD. If you look at the prospects…one-fifth of the world's population (lives in these countries)…There are political inhibitions and economic barriers which do not allow us to realise the potential of this relationship." He also said India needs to address apprehensions within Pakistan over the trade imbalance which continues to be in India's favour.
Basit said that the system between the two countries to allow city-specific visa was "bizarre". "Elsewhere, visas are issued for a nation and we issue visa for five cities at a time. From this, you can gauge how difficult the relationship is."
Basit met Uttar Pradesh CM Akhilesh Yadav on Monday afternoon and discussed how Pakistan and UP can cooperate in areas like agriculture and textiles.
"I invited him to visit Pakistan which he has accepted, in principle. He said he will visit Pakistan at a mutually convenient date," he said.
📣 The Indian Express is now on Telegram. Click here to join our channel (@indianexpress) and stay updated with the latest headlines
For all the latest India News, download Indian Express App.