NEW DELHI: Chief minister
Arvind Kejriwal
on Monday announced the sealing for a week of the capital's borders with the
neighbouring states
. His worry was that Covid-19 patients from outside Delhi would overwhelm the city's healthcare system. He, however, assured that all
essential movement
would be allowed and employees could gain passage by showing their ID cards. Kejriwal also sought the people's opinion on whether to keep the border sealed and whether the hospitals in Delhi should be reserved for city residents.
"In view of current public health situation in Delhi, inter-state movement of non-residents of Delhi, into the territory of Delhi shall be allowed only on the production of e-passes issued for essential services or in case of emergent circumstances, by authorities of respective state/Union territory and / or district magistrates of Delhi," the order released by chief secretary Vijay Dev stated.
TimesView
The Delhi government's decision to seal the capital's borders for all except essential services is as senseless as similar decisions by the Haryana and Uttar Pradesh governments taken in the recent past. All of these make a mockery of the notion of the National Capital Region and ignore the reality that Delhi and its satellite towns are one urban sprawl in which lakhs of people live in one part and work in the other. The Delhi government's plea that this is to prevent health facilities built for the capital's residents being usurped by patients from elsewhere is problematic on two counts. For one, many of Delhi's public hospitals belong to the central government. Why should patients from outside Delhi be denied access to them? For another, the notion of hospitals consciously excluding some patients, whether on geographical or other grounds, is contrary to the fundamental ethos of the medical profession. We hope better sense prevails and the borders between Delhi and its neighbouring towns are kept open by all governments.
The number of Covid-19 cases in Delhi crossed 20,000 on Monday, with 523 deaths so far. The idea behind temporarily sealing the border is to ensure that beds are available for people of Delhi because over 1,000 new cases are being reported every day for the past few days. "I can assure, as your chief minister, that there will be a bed if you are ever infected by the coronavirus," Kejriwal assured on Monday.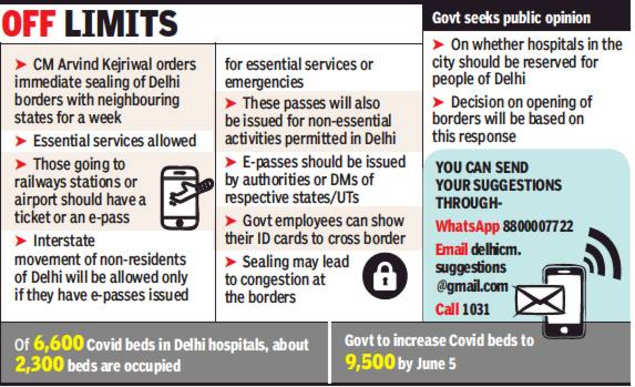 He said, "People from across India come to Delhi for medical treatment. As soon as we open the borders, people from outside will come to Delhi for better treatment. We have a capacity of 9,500 beds for coronavirus treatment in Delhi hospitals. All the beds will be occupied in a couple of days if we have an influx of patients from across the country." Besides state government hospitals, there also are some centrally run facilities in Delhi.
Kejriwal, however, conceded there were differing opinions about such a closure. "Delhi is the capital and it belongs to all India. Can Delhi deny treatment to the people now? Some people believe that the border should be opened, but treatment given only to Delhi residents," he said.
To find a way out, the CM asked for the guidance of Delhiites and requested them to send their views by Friday, 5pm through WhatsApp on number 8800007722, email at delhicm.suggestions@gmail.com or a phone call on 1031.
A government official said that e-passes would be available even for permitted non-essential activities and these passes can be issued by the DMs in Delhi, UP or Haryana. It is likely that there will be a mad rush for the e-passes in all the three states.