NEW DELHI: The corona app on the availability of beds can considerably ease the anxiety of people who test positive. A review on day one showed that
Delhi government
officials have their work cut out if this app has to serve its purpose.
While the app shows availability of beds in most hospitals, when calls were made during the day to their centralised numbers by TOI – like any patient would do – at least 10 out of 25
hospitals
claimed they had no beds available. In some cases, there was no response from the hospital's emergency helpline or board number.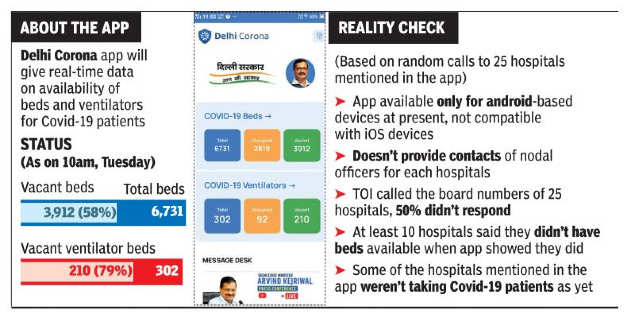 "We are working to streamline the information and service," said state health secretary Padmini Singla. "Action will be taken on any feedback received from any quarter to make the user experience better." At present, the data on bed availability is filled by officials from the state health department. The government is planning to direct all hospitals to appoint their own nodal officers for this purpose to avoid confusion.
The app is currently available only for android-based devices and those using iPhones cannot access it. "It will be available for iOS users in about a week. We are working on that," assured Singla.
The app showed 135 vacant beds at Ram Manohar Lohia Hospital on Tuesday, but the Centre-run facility claimed it had none, a story repeated with many hospitals.
The app showed Batra Hospital had a total of 74 beds and 60 were occupied till 10am, leaving five vacant. However, the official who took the call told TOI no beds had been available for a few days now and that they have been noting down names and numbers of people who wish to get admitted.
"We do not admit everyone who comes here with a positive certificate. A doctor speaks to them about their symptoms, and only if the symptoms are severe is admission advised. If someone is asymptomatic or has minor symptoms, he is advised to go for home quarantine," said the official. This criterion is being followed by almost all Covid-19 registered hospitals. It is in line with what chief minister Arvind Kejriwal suggested on Tuesday.
Among the other hospitals whom TOI called and drew a blank on beds were Apollo, Holy Family, Fortis Escorts Heart Institute, Primus Super Speciality and Maharaja Agrasen.
Mata Chanan Devi Hospital in Janakpuri said it will not be admitting patients for at least one more week since they are renovating an area specifically designated to cater to Covid-19 patients. They have 42 beds. MGS Hospital in Punjabi Bagh too said they weren't admitting Covid-19 patients as yet though the app showed 28 beds were available there.
Similarly, no patients were being admitted at Primus Super Speciality Hospital apparently because special wards are being constructed. They were shown to have 24 beds.
There was no response from the listed phone numbers of many hospitals, including Lok Nayak, AIIMS and Rajiv Gandhi Super Speciality.
Lady Hardinge Medical College, Rajiv Gandhi Cancer Institute and Research Centre and Park Hospital had beds available but not as many as mentioned on the app.
In Video:Delhi: CM Arvind Kejriwal launches app for Covid beds information