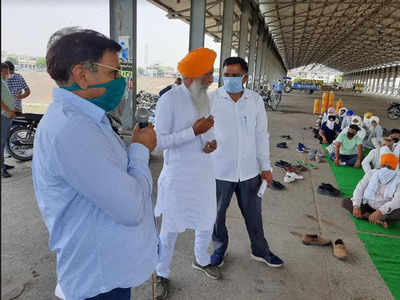 KURUKSHETRA: Bharatiya Kisan Union (BKU), Haryana farmers held a meeting at Shahabad grain market in Kurukshetra district on Wednesday and later handed over a memorandum of demand in the name of Haryana chief minister (CM) to area tehsildar.
The farmers demanded initiation of maize and sunflower procurement and opening of Meri Fasal Mera Byora (MFMB) portal for registration of sunflower and maize for those farmers who could not register their crops in time.
The farmers said despite listing the mandis, the officials have not started the procurement in concerned areas, which is a matter of concern.
BKU Haryana president Gurnam Singh Charuni said, "The farmers cannot store wet sunflower for long, and due to uncertain weather, it cannot be stored in open. Due to delays, the farmers are storing crops at their own facilities. As of now, they are taking the crop to mandi to get it cleaned and dried and again bringing it back to their facilities. This is adding a cost of labour. The procurement should start at the earliest."
"Registration of around 1,000 farmers in Shahabad area is pending on MFMB portal, and so far, around 2,800 have registered. The portal was closed before time by the government, while there was a lot of crop sowing pending in the fields of farmers. A large number of farmers in the state sow sunflower after harvesting mustard. Thus, the farmers who cultivated mustard were not able to register for sunflower till their crop was not procured, and a lot of farmers missed from registering on the MFMB portal. Our union has already written to the government, but it has not opened the registration portal for the remaining farmers. We request the opening of MFMB portal for sunflower and maize farmers at the earliest", further said Charuni.
As per the sources, on Wednesday, the deputy director (DD) (procurement) of the Food, Civil Supplies and Consumer Affairs Department, Haryana vide an order to concerned officials with endorsement number RP-1-2020/8502 dated June 3, 2020, opened mandis for procurement of sunflower during marketing season 2020-21. According to this order, for the sunflower procurement the 8 mandis have been allotted in three districts of Haryana including Ambala Cantt, Ambala City, Mullana, and Shahzadpur in Ambala, Barwala in Panchkula and Ismailabad, Shahabad, and Thanesar in Kurukshetra district.
Similarly for the maize procurement, DD (procurement) Haryana vide an order to concerned officials with memo number RP-1-2020/8081 dated May 26, 2020, allotted 17 purchase centres in 10 districts of Haryana including Ambala City, Naraingarh, Mullana, and Shahzadpur in Ambala; Fatehabad; Jind; Kaithal; Karnal; Ladwa, Pehowa, Shahabad, and Babain in Kurukshetra; Barwala and Panchkula in Panchkula; Rewari; Kharkhoda in Sonipat, Jagadhri in Yamunanagar.