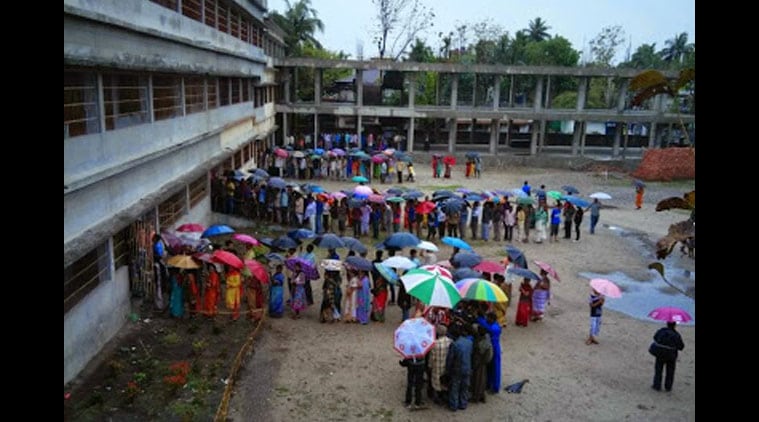 Polling for the 91 civic bodies across West Bengal began amid tight security today. (Source: Express photo by Subham Dutta)
Indrajit Singh – a Trinamool Congress worker was shot dead outside a polling booth in Katwa in Burdwan district this morning soon after the second phase of Bengal municipal polls began. It is the first casualty of West Bengal's two-phase municipal polls.
The first phase of polling that took place on April 18 was restricted to the areas under the Kolkata Municipal Corporation (KMC). In the second, polling for the 91 civic bodies across West Bengal began amid tight security today.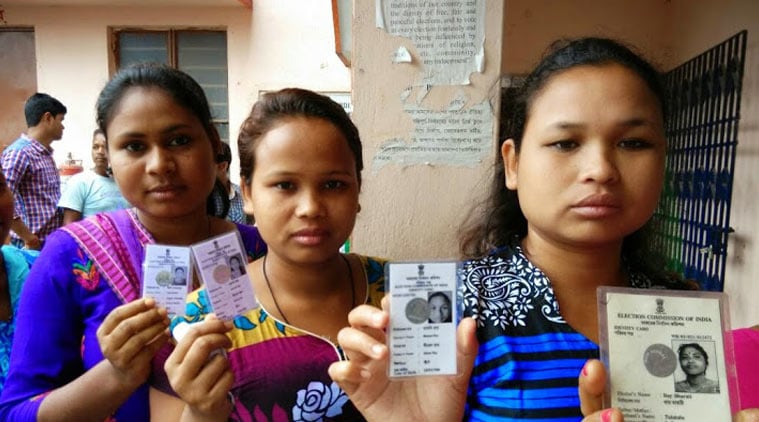 Voters at Siliguri Netaji Girls High School for the Municipality polls on Saturday. (Source: Express photo by Subham Dutta)
In this morning's clash several others were injured and were taken to hospital. The Congress was accused of mounting the attack outside a booth at rail institution where Indrajit died. The police confirmed the death and said that raids were on to nab the culprits and to ensure peaceful voting in the area.
According to preliminary reports, soon after the voting began this morning at about 7 am bombs were hurled outside several polling booths in Katwa. Indrajit Sinha – claimed to be a Trinamool Congress worker by the Burdwan district Trinamool Congress president – Swapan Debnath – was on his poll duty for the party. A group of Congress supporters fired at Indrajit and other TMC supporters. A bullet hit Indrajit on his chest and he died on the spot.
However, local Congress MLA – Rabindranath Chattopadhyay alleged that from the morning the Trinamool Congress supporters had began capturing the polling booths and the incident could have been a fall out of that when Congress supporters tried to resist. The Katwa municipality was won by the Trinamool Congress-Congress alliance in 2010. Later, the Trinamool Congress could win over the Congress councillors and it had turned into a Trinamool Congress run municipality, said Swapan Debnath.
However, there was tension in several other districts, as well outside polling booths. The Central government sanctioned about 32 companies of the central security forces for deployment in the municipal polls. Unfortunately, the forces arrived only yesterday just hours before the polling forcing the state Chief Minister Mamata Banerjee to say that the forces arrived too late to be used effectively.
📣 The Indian Express is now on Telegram. Click here to join our channel (@indianexpress) and stay updated with the latest headlines
For all the latest India News, download Indian Express App.