Written by
Premankur Biswas
| Charka (west Bengal) |

Published: May 11, 2015 3:14:10 am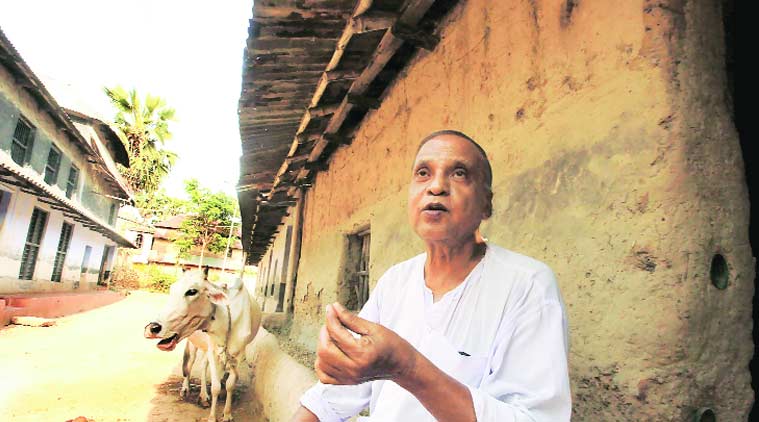 Miskin Khan, one of the founder members of CPM at Charka village in West Midnapore. (Source: Express photo by Subham Dutta)
Summer afternoons are nap time in most Bengal villages  and Charka, in Keshpur block of Paschim Mednipur district, seems no different. A small huddle of young men gathers in front of the community tube well, chatting while filling up buckets of water. A lone grocery shop is open, selling packed chips among other things.
The village is like thousands of others in Bengal: a tightly packed settlement of palm-thatched huts and bamboo-walled stalls. However, history has left its mark on Charka, a primarily Muslim village. An unmetalled road cuts across the main square of this thickly packed village where blood was shed less than a year ago. Trinamool leader Firoz Ali was allegedly murdered by CPM activists after a clash following the 2014 Lok Sabha elections.
Charka and the other villages under Keshpur block have been CPM bastions for decades. Even in the 2011 elections, Rameswar Dolui of the CPM defeated his nearest rival Rajani Kanta Dolui of the Congress by more than 30,000 votes.
The new general secretary of the party, Sitaram Yechury, may devise a new gameplan for a comeback, but here they are not holding their breath.
After the 1998 panchayat elections, the Trinamool Congress started from this one-horse town, a programme to mobilise the surrounding villagers. In a meeting in the area which gathered thousands, Mamata Banerjee had roared  "Keshpur hobe CPM er sheshpur!" (Keshpur will be the end of CPM). Since then, Keshpur has been caught in bloody clashes between the CPM and the Trinamool Congress over control of the area. The Chief Minister's words still seem to hang in the air of Chakra. Reclining against the wall of his shop, Sheikh Anayatullah, 54, tells us why. "What she said did ring true. Only in this block some CPM men are there; the leaders have all fled," says the former CPM supporter who calls himself apolitical.
Mamata's challenge included fighting the CPM's domination over the electoral process in these areas. In rural areas, the CPM was widely suspected to have followed a regime perfected by them in which the non-party voters were virtually debarred from voting.
Sitting in his cavernous two-storied house, local CPM veteran Miskin Khan confesses to as much. "When we started the party, we would walk for miles and reach out to people. Then the party was known as poor people's party. But of late the CPM leaders are only interested in pleasing the poll officers. There is a  CPM leader standing in every  booth, pressing the button for the voter," says  Khan, who retired from active politics in 1993 after his complains of  corruption against block-level leaders went unheard in Alimuddin Street.  Yet, he still calls himself a comrade. "I have believed in the ideals of the party and I always will," says Khan.
Of the 85 active CPM party members in the village in 2011, only two have  renewed their membership. "Both of them, Imtiaz Ali and  Niyamat Hussain, live in Mednipur town," says Khan. The fact that Yechury has taken over the reins of the party, doesn't fill Khan's heart with hope.  "Yechury is a charismatic leader, but people in Bengal need more time to get over the mistakes that we made in the 34 years we ruled," says Khan.
Does that mean that the villagers of this CPM village are happy with the Trinamool rule? There is a newly-opened school for girls, a well-equipped high school, a functional healthcare centre which has doctors visiting every week and a steady supply of filtered water and electricity. "Earlier, the  teacher to student ratio was 1:55 and now it's 1:40 in our school. Quite a few girls have also benefited under the Kanyashreee scheme. However, the roads remain as bad as ever," says Sheikh Imad Hussein, 20, a student of Kharagpur College and a CPM supporter.  "As a woman, I don't feel safe anymore. I have to commute for two hours everyday to the nearby Panskura college and I have to face harassment everyday. It's unfortunate  that in a sate run by a woman chief minister, women have to face such  harassment," says Sonali Mal, 21.
Charka, a Muslim village surrounded by Hindu-dominated one, never really faced communal violence during the CPM reign. "The CPM may have many faults, but it never divided us on the basis of religion. But of late we are hearing whispers of BJP coming to power in nearby Hindu villages. That is a bit scary," says Sheikh Farhad Ali, 60, a farmer and a CPM supporter.
The CPM's secular approach is what drew Madan Mal, 20, a student of Bengali Honours at Panskura College, to the party. "I feel no other party has as strong a base as the CPM. We had only lost touch with the people for some  time, the current crop of leaders are way too dogged in their approach. I feel Yechury will be a much more youth-friendly leader," says Mal.
📣 The Indian Express is now on Telegram. Click here to join our channel (@indianexpress) and stay updated with the latest headlines
For all the latest India News, download Indian Express App.