JAIPUR: In a reversal of trend, rural areas in Rajasthan now have more
Covid-19
patients than urban in almost half of the state's districts. In some districts, more than 90% of the positive cases are in the rural areas.
Jaipur district has recorded more than 100 positive cases from its rural parts.
Out of 2,803 active cases in the state, 2,620 are migrants, health department figures show. As many as 11 lakh people have reached Rajasthan from Ahmedabad,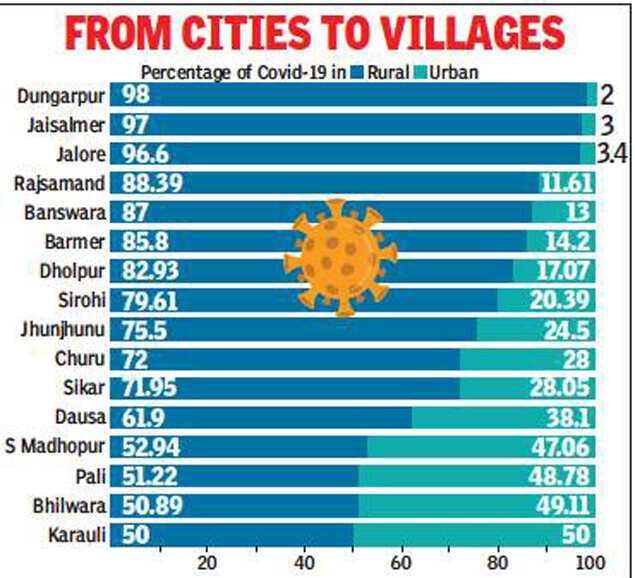 Surat, Mumbai and many other Covid-19 hotspots. They have been quarantined at their homes and institutional facilities to contain spread of the virus in rural areas.
With more persons getting tested for the virus daily, the percentage of Covid-19 patients in rural areas is constantly increasing as compared to that in urban parts.
Health department data shows that when the Covid-19 countstood at7,173,25%of these were reported from rural areas. Now, as cases have breached the 9,000-mark, 30% of them have been reported from rural areas.
"The percentage of Covid-19 patients has been increasing since May 1, with migrants arriving in the state from Maharashtra, Gujarat and other states affected by Covid-19. Only a negligible number of persons were found infected from rural areas before this," said a senior health department official, adding that the trend is reversing.
The districts which have the highest percentageof rural population tested positive for Covid-19 areDungarpur (98%),Jaisalmer (97%), Jalore (96.6%), Rajsamand (88.3%), Banswara (87%) and Barmer (85.8%).
In Jaipur too, 73 persons are still undergoing treatment for Covid-19 in the rural area, while 175 are in urban areas. There are 16 places in Jaipur rural from where Covid-19 cases have been reported. "Initially, it was an urban crisis but now it has taken rural areastooin its grip,"said a senior health department official. However, health authorities are hopeful that they will soon be able to control the situation in rural areas as well.
"The Centre has compared 10 bigger states and it has been found that Rajasthan is at the top in handling Covid-19 pandemic," said health minister Raghu Sharma. Explaining why therehasbeen an increased number of cases in the state, he said that Rajasthan had carried out four lakh tests from the 35 lakh carried out in the entire country. This is more than 10% of tests done in the country. He alsoclaimedthatwhilein theentire country the doubling rate of Covid-19 was 12 days, in Rajasthan itwas18days.