Written by
RAMENDRA SINGH
| Kannauj |

Updated: July 8, 2015 1:47:35 am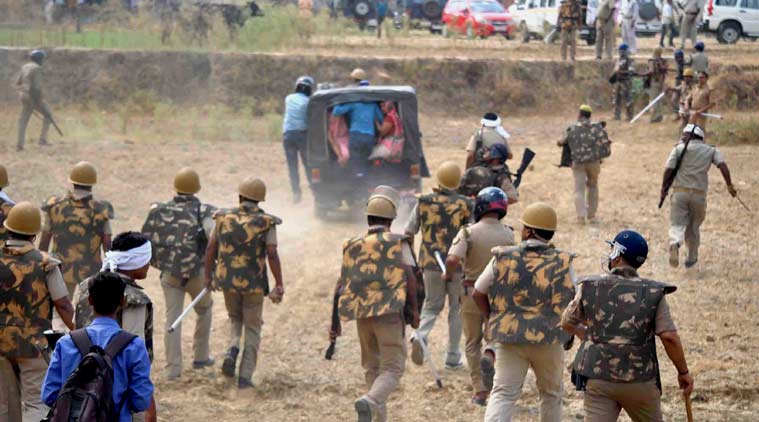 Besides the arrest of BJP district vice-president Vir Singh Bhadauriya and lodging of an FIR against city president of Bharatiya Janata Yuva Morcha, Chhotu Yadav, police are probing the role of BJP leader Subrat Pathak, who had lost the 2014 Lok Sabha polls to Kannauj MP Dimple Yadav. Picture for representation (Source: PTI)
Long before Hindus and Muslims clashed in Kannauj after a Muslim landlord asked his tenant Satish Chandra Gupta to vacate his shop Sunday, leaving one dead, the area has been simmering with tension amid increasing political rivalry between a resurgent BJP and the ruling SP.
Two days after the clash, an uneasy calm prevailed in the narrow lanes of Kannauj Tuesday, even as police and PAC personnel patrolled round the clock.
Besides the arrest of BJP district vice-president Vir Singh Bhadauriya and lodging of an FIR against city president of Bharatiya Janata Yuva Morcha, Chhotu Yadav, police are probing the role of BJP leader Subrat Pathak, who had lost the 2014 Lok Sabha polls to Kannauj MP Dimple Yadav.
A complaint — 14 have been lodged — filed by SHO of City Kotwali police station Bhullan Yadav, alleges that Pathak — who has not been named as an accused — incited people and indulged in firing. "There is no direct allegation, but his role is being probed as he was present at the time of violence and indulged in flaring up violence," said Kannauj ASP S C Shakya.
Sunday's violence stemmed from a dispute between a landlord and a tenant. Imran Warsi's shop was taken on rent by his neighbour Satish and had remained with the latter for over 50 years. Banwarilal, Satish's brother, said Rs 300 per month was being paid as rent but Warsi wanted to increase it to Rs 2,000. "After a quarrel, Satish deposited the rent in court. On Sunday, Warsi and his relatives reached the grocery shop and removed posters of Hindu gods and pasted them outside. During an argument, Warsi's nephew slapped Satish. While my brother went to lodge an FIR, Warsi and his family removed all materials from the shop and locked it," he said.
Following this, local Hindus gathered in the area, which is dominated by the community. Warsi's associates also gathered in his house. The complaint claimed that those in Warsi's house hurled bricks and opened fire even after police came. Later, the Hindus were also incited and indulged in brick-batting.
"Police did not enter Warsi's house as over 40 people were firing and hurling bricks from inside. At that time, violence started in a nearby Muslim-dominated area and the police went there. Following this, all were asked to leave Warsi's house," said Satish's neighbour Himanshu Gupta.
Around 500 m away, Aqeel Ahmed (42), who used to work at his family's shop of agarbattis, was hit by a bullet on his neck. He was declared dead on arrival at the hospital. "We had gathered near the mosque for Iftar. These people were coming from where the violence had taken place. They were shouting that 'Subrat Pathak has ordered us to kill Muslims' and hurled abuses. When someone from our locality objected, they started firing and Aqeel was hit," said Aqeel's brother Shakil Ahmed. He added that his locality was not involved in the dispute. "Pathak has been orchestrating such incidents for past two years…He has groomed a gang that indulges in such incidents. Earlier, no one was hurt… I blame administration for my brother's death. It did not do anything to stop the clashes," he said.
When contacted, Pathak said he reached Kannauj after the clash and added that this was an attempt by SP leaders to implicate BJP leaders.
📣 The Indian Express is now on Telegram. Click here to join our channel (@indianexpress) and stay updated with the latest headlines
For all the latest India News, download Indian Express App.