BENGALURU: With a whopping 388 people testing positive in
Karnataka
for Covid-19 on June 2 and 267 the next day, the infection spiral is likely to be the new normal in the state for some more days to come, given that people are still returning to Karnataka in thousands from Maharashtra and other states.
Official sources said that most of the 368 inter-state returnees who tested positive on Tuesday and 250 on Wednesday had come to Karnataka a week ago. The number of Maharashtra returnees among the new patients on the two days was 357 and 232, respectively. They had been tested soon after their arrival and the results took time.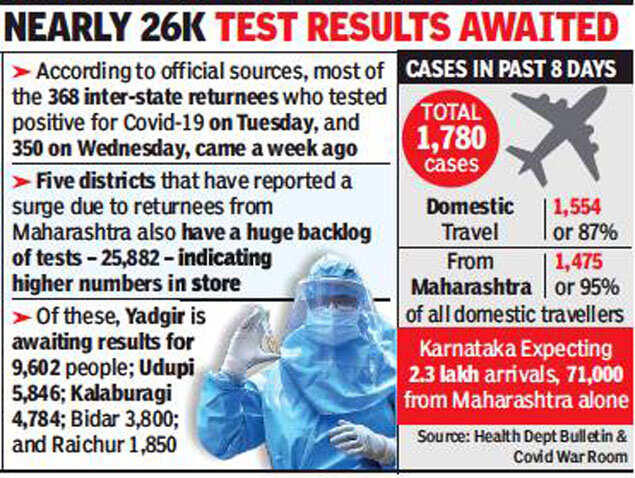 With five districts that are reporting a high number of Maharashtra returnees testing positive still having a huge backlog of throat swab samples awaiting results, the numbers are likely to rise further over the next few days. As on June 2, test results of 25,882 samples were awaited: Yadgir 9,602; Udupi 5,846; Kalaburagi 4,784; Bidar 3,800; and Raichur 1,850. However, officials are hopeful that cases will wane in a week's time as the testing criteria have been recently changed and all asymptomatic returnees would not be tested henceforth.
Health commissioner Pankaj Kumar Pandey said the number of cases is expected to reduce in sometime as most of the migrants have come back. "Also, every other state is testing those who have symptoms. Karnataka was the only state testing asymptomatic returnees. Now, as we too are following government of India guidelines, the cases may reduce," Pandey said.
'Clear picture on impact of returnees yet to emerge'
Another source in the government added that the clear picture of the impact of inter-state returnees is yet to emerge due to the testing backlog. "More than 50% of Karnataka's Covid-19 cases are of Maharashtra returnees. In Karnataka, we have seen multiple changes in the SOPs. We may now miss out on asymptomatic carriers," the source said.
The influx shows that thousands are now returning to their native places. "The high reliance on one state, and focusing only those coming from there (Maharashtra) is an artefact. Other states like Telangana are also of high risk and their testing rates are not so good. We should have had a common policy for all," Dr Giridhara R Babu, member of the Covid-19 technical analysis committee of Karnataka.
He said institutional quarantine could also be a source of infection. "If there is one infected person in institutional quarantine, it is possible that s/he can affect other susceptible persons. I am not for institutional quarantine. Instead, home quarantine is the best way where the infection, if at all, could be within a home, or in micro containment. If precautions are taken, the transmissibility is reduced," said Babu.
The government's decision to reopen religious places, including temples, would add to the risk of spread, he cautioned. "Our focus should have been on reducing the clusters and crowding. But by opening temples, settings are being created where one susceptible person can spread the infection to 100 people in less than half an hour as there will be queues in all temples. Otherwise, one person can spread the infection to 2-3 people and would not meet 100 people. Those who are elderly, those who are sick, those who believe in remedy by god are the ones who go to temples. All religious places are closed places and can harbour respiratory infection," Babu said.
"If the state government opens up temples in Dharmasthala and Kukke Subramanya, the cases will increase drastically. Any congregation can turn out to be a cluster, which can lead to challenging scenarios. As the government is not testing asymptomatic persons, there are possibilities of spread. Now, the only hope is on strict vigilance over home quarantine and testing those who develop influenza-like illness," an expert working with the Covid-19 taskforce said.