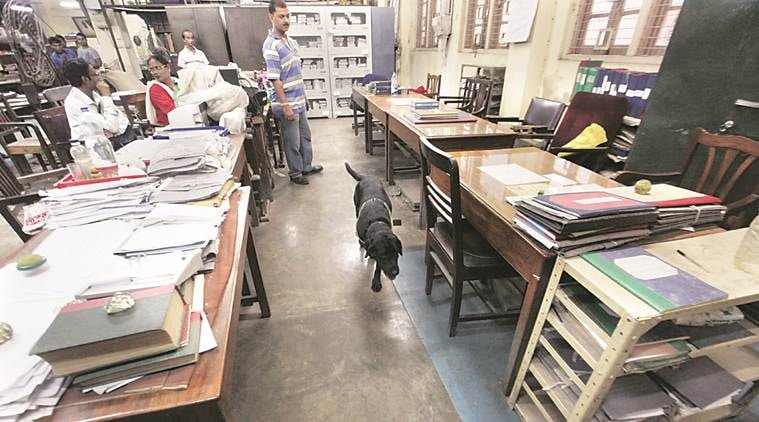 Kolkata police security search with sniffer dogs and bomb detection equipments at Writer's Building on Tuesday afternoon after a bomb hoax email reached at Kolkata Police Commissioner's mail. (Source: Express photo by Subham Dutta)
Kolkata Police received an anonymous e-mail on Tuesday afternoon, claiming that there was a bomb at the 200-year-old Writers' Buildings, which served as the state secretariat and is currently being renovated.
Security around the colonial edifice was enhanced immediately as senior Kolkata Police officers, along with a bomb disposal squad and three sniffer dogs, rushed to the building, which was evacuated soon after.
The police said the email sent to the city police headquarters at Lalbazar was written in broken English, and had claimed that bombs had been planted at the heritage building, following which a search operation was launched at around 3 pm.
Later, Joint Commissioner of Police Rajiv Mishra confirmed that the email "seemed to be a hoax", adding that nothing had been found.
"The fact that most of the building is empty made the search easier because there were less people to evacuate. But at the same time, the rubble from demolished structures increased the possibilities of the place where a bomb could potentially be hidden," said a senior police officer.
Meanwhile, the police said they have begun tracing the sender of the hoax e-mail. "We are trying to find out who sent the e-mail. We often receive such hoax emails or phone calls," added the officer.
"After checking the IP address it was found that the mail was sent by somebody in the state itself. Our cyber cell section is looking into the matter. We cannot divulge more on this since probe is still on," Kolkata Police Joint Commissioner of Police (Crime) Pallab Kanti Ghosh said. Besides regular policemen, Kolkata Police personnel in plains clothes would be posted at the heritage premises tonight, police said.
📣 The Indian Express is now on Telegram. Click here to join our channel (@indianexpress) and stay updated with the latest headlines
For all the latest India News, download Indian Express App.