JAIPUR: The state government is all set to reopen coaching centres in Kota by the end of June, and has offered all help to institutes to bring back students who had left for their respective states due to the pandemic. The lockdown has seen the coaching town reel under one of the worst economic crisis as the sector alone provides direct employment to over one lakh residents in multiple sectors.
Making the first move, UDH minister and Kota MLA Shanti Dhariwal has suggested to the local administration to put coaching areas into separate zones or categories while imposing restrictions on unnecessary movement of vehicles and local residents. Kota has six areas with a high density of coaching institutes, hostels and related facilities. These are Rajiv Gandhi Nagar, Kunhari, Bara Road, Talwandi, Jawahar Nagar and Indra Vihar. They witness a very heavy movement of students throughout the day.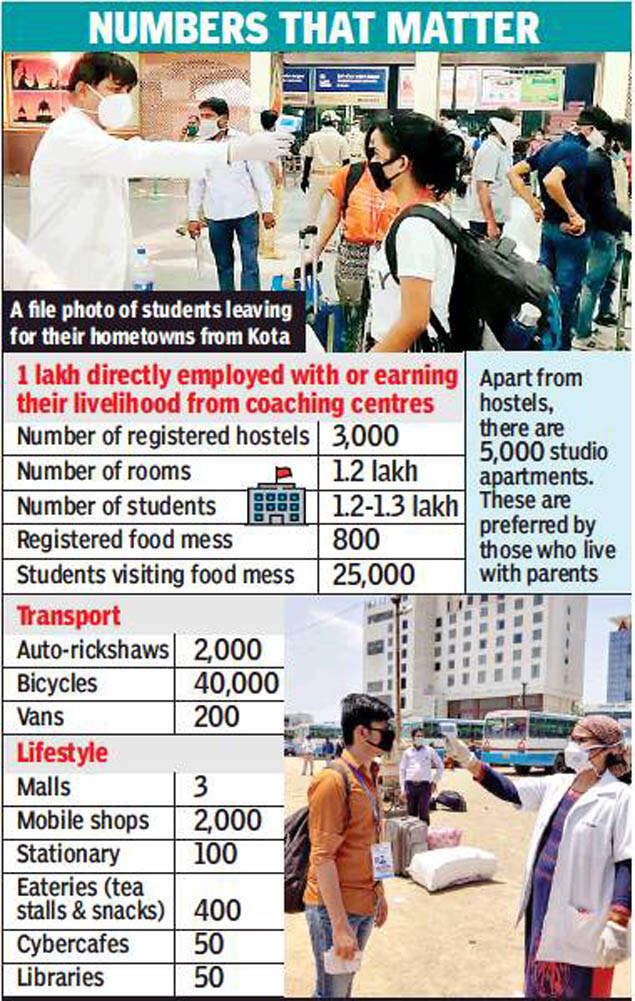 "It's most important for us to send a strong message to students and their parents across the country that we care for them. We will take utmost precaution for their safety and security," Dhariwal said.
He suggested some tough measures for reopening the coaching town. "Every coaching centre should maintain the required distance between two students. A class with a capacity of 120 students must be reduced to 40-50 students to win the confidence of parents," he said.
Higher education minister Bhanwar Singh Bhati too has assured all help to stakeholders — coaching centres, hostel, catering and transport providers — to create a safe and healthy ecosystem for students and help the the sector.
"We have been holding talks with coaching majors and other stakeholders, taking their advice on reopening. We have declared holidays in institutes till June 15 and would want a blueprint to be ready before mid-June," Bhati said.
Another view that's doing the rounds in the government is a rotational class system wherein one-third of the actual strength of a class will attend centres for two days each in a week. About 46,500 students have left for their respecrector of Allen Coaching Institute, has given a list of dos and don'ts for coaching institutes across the country.