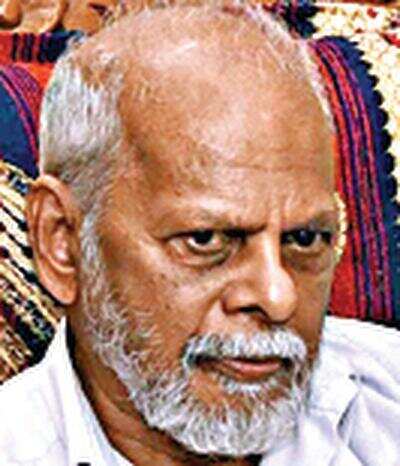 Thiruvananthapuram: LIFE Mission CEO U V Jose honoured Sukumaran Vaidyar, a resident of Panniyode, Poovachal, who donated 2.75 acres for constructing apartments for homeless people under LIFE housing mission here on Saturday. Vaidyar said he had put in much thought before donating his land for LIFE Mission.
Vaidyar, a traditional medicine practitioner, visited the flat complex constructed under LIFE Mission at Adimali and also paid a visit to Abdulla, a resident of Kadakkal who had earlier donated land for the mission. He understood the requirements before donating the land priced at Rs 3 crore.
Jose said such a kind gesture from Vaidyar is a recognition to state government's initiatives to ensure home for the homeless people in the state. That he donated the land after understanding the requirements is a testimony to his earnestness, the CEO said.
The land donated by Vaidyar is so far the largest expanse of land given to LIFE Mission by an individual. Jose also visited the plot donated by Vaidyar at Kulavupara. He had purchased the land for Janaki memorial trust, an initiative he started in memory of his mother.
Poovachal panchayat president K Ramachandran, development standing committee chairman S Vijayadas, health standing committee chairman P Manikantan, panchayat member A K Dinesh, panchayat secretary S Jayanti, LIFE Mission chief engineer N Ajayakumar, project manager U S Rahul,district co-ordinator K Sajeendra Babu accompanied Jose.
As many as 113 beneficiaries have been included in the list of landless-homeless people in Poovachal panchayat for LIFE Mission. The panchayat had earlier transferred 70 cents for LIFE Mission. This land was insufficient for constructing flats for all the beneficiaries. It was following this issue Vaidyar decided to donate 2.75 acres he had bought with his savings towards the objectives of LIFE Mission. He has also undertaken charity initiatives like bus-waiting shed at Panniyode junction, reading centre, library which were constructed under Janaki memorial trust.