The week-long
lockdown
between July 14 and 22 did more harm than good to contain the spread of the
covid-19 pandemic
. There was a 45 per cent increase in the number of cases and the mortality rate doubled, according to official statistics. (See table)
Similarly, the number of new cases rose from 2,738 per day on the eve of the lockdown to 4,764 cases on July 22.
One-week lockdown

Karnataka went into a week-long lockdown as the positive cases increased exponentially from July 1. The government however, developed cold feet and did not extend the lockdown further. Reasons – the economic situation in the state was going from bad to worse and trade bodies and businesses were unhappy with the lockdown.



Public health researchers, virologists and medical professionals believe that such half-hearted attempts at locking down are likely to cause further spread of the pandemic, instead of containing it.
At present, the positive cases have increased to about 1.51 lakh and the numbers have doubled within two weeks. The number of deaths have increased from 1,185 on July 22 to 2,804 on August 5.
What Experts Say

Dr CN Manjunath, Director Sri Jayadeva Institute of Cardiovascular Sciences and Research says that allowing economic activities within districts and imposing restrictions on inter-state and inter-district travel will help instead of a blanket lockdown. "When there is movement of people during and after the lockdown, the chances of such people spreading the virus is much higher," he says.
A former ICMR director, who was at the helm when there was a pandemic-like situation in the past, says that "increasing tests, establishing medical infrastructure and following personal hygiene are the only ways to fight Covid-19." Wishing to stay anonymous, he said that the actual covid cases in India could be in crores.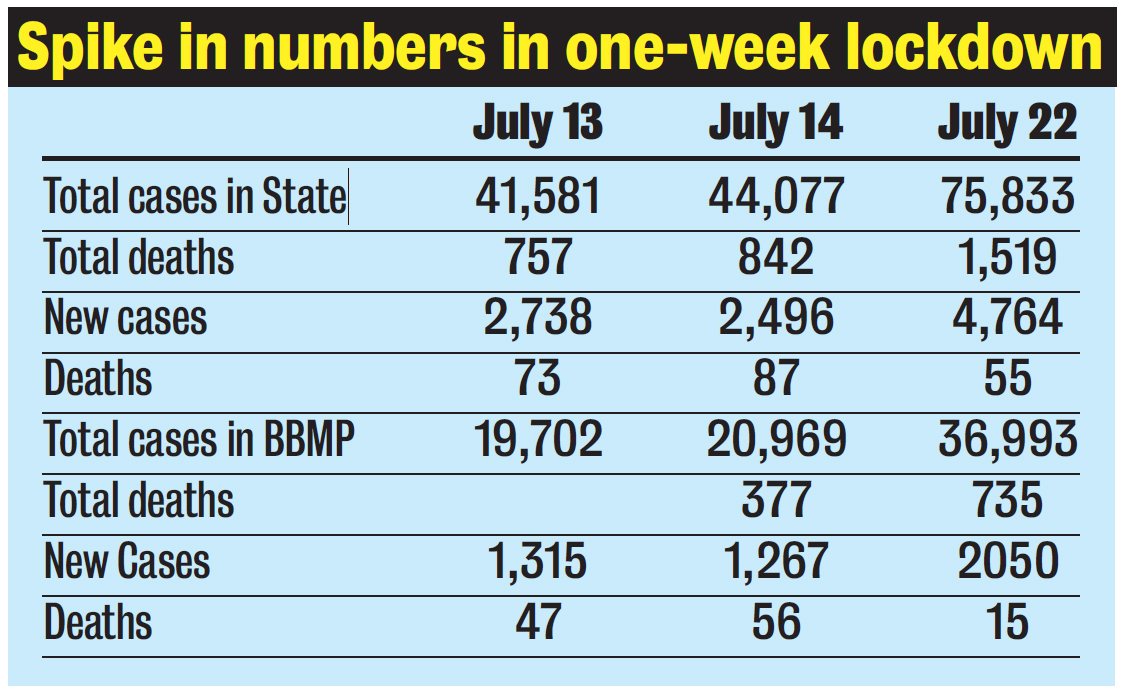 A Public Health Researcher, who was earlier associated with the World Health Organisation and working with various States, says that in August, we will be in community transmission, and by September, almost everyone will get it. "Nearly 75 per cent may not even know that they have it," he said.
He recommended opening drop-in centres like for pulse polio, so that people can visit these centres for a check-up even when they have the mildest of symptoms.
According to this former WHO official, there is nothing like an asymptomatic covid-19 patient. "Simple diarrhoea, cough, headache, fever at 99 degrees could be symptoms too. There are chances that people will tend to neglect this because it will not affect their day-to-day activities," he said.
Intermittent Lockdowns

Experts believe that intermittent lockdowns for 14 days are the only solution whenever there is a spike in the numbers of covid cases in a particular state, city or even in a small hamlet.
This has to be done to achieve three specific targets – reduce the number of new cases, not to stretch frontline warriors like doctors, paramedics among others and ensure there is no pressure on hospital infrastructure.
A community health specialist working with neighbouring states and refusing to be identified said that two-week intermittent lockdowns will help to prevent "burn out of doctors, nurses, lab technicians. If these people get infected, things will go out of hand – on one side there will be a decrease in available medical personnel while on other side, number of cases will increase."
He pointed at how Chennai had effectively used such lockdowns to bring the numbers down.