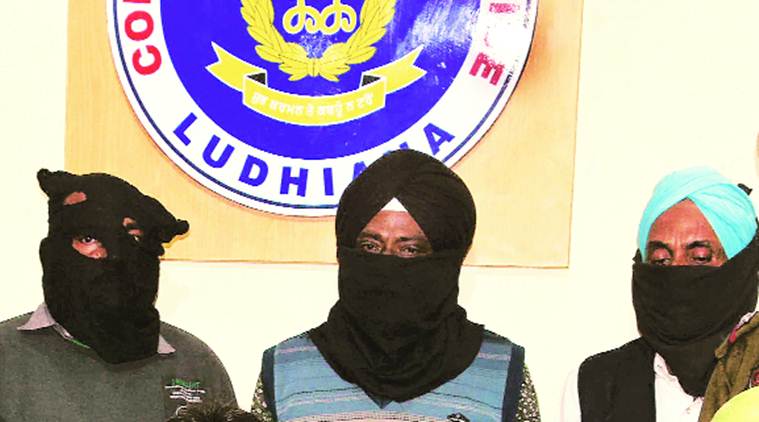 The accused were arrested on Saturday.
The Special Task Force (STF) on Saturday arrested an assistant sub-inspector (ASI) of Punjab Police posted at Ludhiana, a former special police officer (SPO) from Bathinda and their accomplice for alleged possession of opium.
AIG STF Snehdeep Sharma and STF Ludhiana in-charge Harbans Singh at a press conference in Ludhiana on Sunday said ASI Jagjit Singh (56), posted at the Ludhiana city commissioner office, ex-SPO Angrej Singh (47), who had been dismissed from service, and Lakhwinder Singh alias Mantu, were arrested near Manju Cinema in Ludhiana. They were allegedly on their way to deliver 500 gm of opium — which was recovered from them — to their customers by car.
STF Ludhiana in-charge Harbans Singh said that ASI Singh, a resident of Police Colony, Jamalpur, had joined the force in 1986 and has confessed during interrogation that he was dealing in drugs for the past 5-6 years. He was posted as clerical staff at the Additional DCP's (HQ) Ludhiana office. Ludhiana Police Commissioner Rakesh Agrawal said the ASI had been suspended and his role is being probed. "He will be sent on compulsory retirement," said Agrawal.
Meanwhile, former SPO Angrej Singh was posted at Ferozepur and belongs to Deep Nagar of Bathinda. He had joined as SPO in 1996. "In 2006, two undertrials had fled from his custody and FIR was lodged against him. Since then he did not join back and was dismissed," said Inspector Harbans Singh.
Their third accomplice, Lakhwinder Singh of Adarsh Nagar in Bathinda, works as a taxi driver and is a relative of ASI Jagjit Singh.
STF said the three had procured the drug from Sirsa, Haryana, at cheap rates and sold them among addicts in Ludhiana.
An FIR was registered at STF Mohali police station under the sections 18, 29, 61 and 85 of the NDPS Act. They were sent in a day's police remand by the court on Sunday.
This is the second such case of a policeman being caught with drugs in Ludhiana in the past one week. On November 18, STF had arrested constable Amandeep Singh and recovered 51 gram heroin from him. He was dismissed by Ludhiana police commissioner.
📣 The Indian Express is now on Telegram. Click here to join our channel (@indianexpress) and stay updated with the latest headlines
For all the latest Ludhiana News, download Indian Express App.