MUMBAI: Rain accompanied by strong, gusty winds lashed parts of the city on Tuesday as it braced for the impact of cyclonic storm Nisarga that is expected to make landfall south of it on Wednesday afternoon.
With a red alert warning for Mumbai, Thane and Palghar issued by the India Meteorological Department (IMD) for Wednesday, the city police put public places along the coast like beaches, promenades, parks out of bounds of people under Section 144 of CrPC for 24 hours from Wednesday, and authorities began evacuating hundreds of vulnerable dwellers near the sea in the city and thousands in coastal districts around it. In all, 65,000 people have been evacuated in five districts.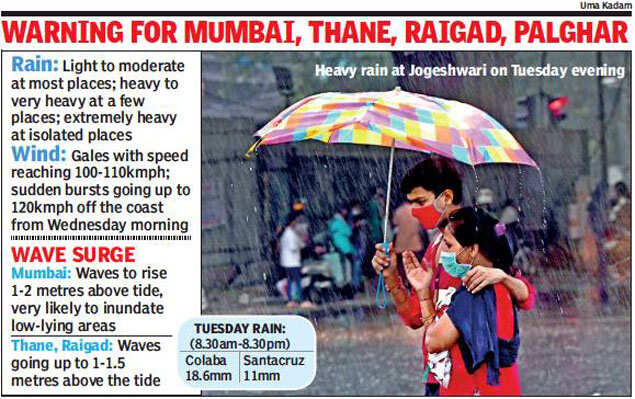 Weather monitors warned of a storm surge of up to 2m above the astronomical tide, and of winds gusting at up to 120kmph as Cyclone Nisarga races up the west coast and is expected to make landfall between Harihareshwar, 200km south of Mumbai in Raigad district, and Daman, almost 200km north of Mumbai. However, IMD believes the landfall is likely near Alibaug in Raigad district.
On Tuesday, CM Uddhav Thackeray postponed Mission Begin Again, the easing of the lockdown from June 3, by two days and asked citizens in the city and the coastal districts to stay indoors on Wednesday and Thursday. He advised them not to take shelter in temporary structures and dilapidated buildings, store drinking water and switch off power, especially in rural areas. A Covid-19 field hospital at BKC has been evacuated to ensure safety of the patients. PM Narendra Modi has assured the state government of help, he added.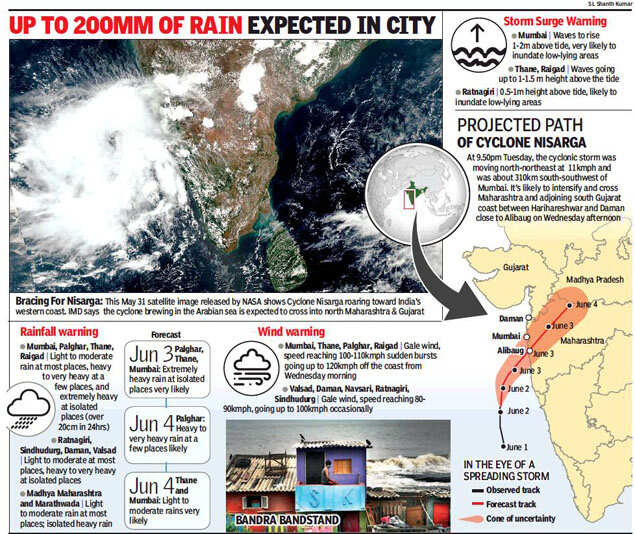 As a precaution, Mumbai airport will operate only 12 arrival flights on Wednesday as against the 25 it has been handling on an average daily for the past week. City collector Rajiv Nivatkar said long-distance trains will be allowed to ply depending on the weather situation.
Officials at the state disaster management control room said 15 teams of NDRF and five SDRF have been deployed across districts and an additional five NDRF teams are being airlifted from Vishakhapatnam. Four of them have been sent to Raigad, where the landfall will occur.
At 9.50pm on Tuesday, Cyclone Nisarga was located 310km southwest of Mumbai, said IMD, and is likely to intensify into a severe cyclonic storm during the next 12 hours.Cyclones hitting Maharashtra is not common, as most that develop in the Arabian Sea either veer northwest to the Arabian peninsula or travel further up till Gujarat. On November 11, 2009, however, Cyclone Phyan had smashed into the Maharashtra coast, causing extensive damage to property.
"For now, it shows that Mumbai is falling on the existing track of the storm (Nisarga) and, therefore, evacuation may be required in some areas. This is also considering that the radial distance between Alibaug and Mumbai is not much. The city is expected to witness a rainy day all throughout Wednesday and the remnants may even be witnessed on Thursday," said K S Hosalikar, deputy director-general (western region), IMD. It was only in Tuesday's national bulletin that IMD officially named the storm 'Nisarga'.
The civic administration on Tuesday asked for equipment at construction sites to be secured to prevent accident and the police to remove temporary sheds erected on roads for nakabandis as the metal barriers could fly off due to the strong winds. In a marathon meeting, municipal commissioner I S Chahal asked ward officers to shift Covid patients put up in temporary structures.
Civic officials warned slum dwellers near Banganga tank at Walkeshwar and near Mahalaxmi temple to shift to a BMC school for a day on Wednesday morning. At Bandra Bandstand, 150 slum dwellers were shifted to a nearby school. At Gorai village, civic officials requested locals to shift to a nearby school and a church premises.
Western and Central Railways have asked their teams to be on high alert. RPF too has been deployed at many places to help people in case of emergency.
Two NDRF teams were sent to Raigad to help tackle the impact of the cyclone. However, after a demand was made by the Raigad district collector, two additional NDRF teams were sanctioned for the Alibaug coast. Accordingly, three NDRF teams, with 22 personnel in each team, will be deployed in Alibaug taluka, said Raigad district collector Nidhi Choudhari.
"Three are 62 villages with a population of 1.7 lakh along the coastal belt in Raigad district. We have evacuated around 5,000 people in Alibaug, Uran, Murud and Shrivardhan talukas as they were residing in 'kutcha' houses," she said.
Off the coast, big cargo vessels, offshore supply vessels of ONGC and other ships have been moved out as the Mumbai Port Trust (MbPT) and JNPT issued cyclone alerts once the IMD flagged signal number 5, which meant the port will experience severe weather. MbPT chairman Sanjay Bhatia said: "I have already passed the order not to allow berthing and evacuate the port. There could have been some 20 ships at the outer and inner anchorage."
Akshay Deoras, an independent meteorologist who is a PhD student at the Department of Meteorology, University of Reading, in UK, felt the storm is weakening. It is likely to look like a "vigorous monsoon day for Mumbai" and maybe a concern especially for those who live along the coast line in 'kaccha structures'.