HYDERABAD: Southwest monsoon is likely to make its official entry in Telangana by June 12, which is four days late as per the long-range forecast issued by India Meteorological Department (IMD), Hyderabad on Monday.
This, despite the monsoon setting in over Kerala on Monday, coinciding with its normal date.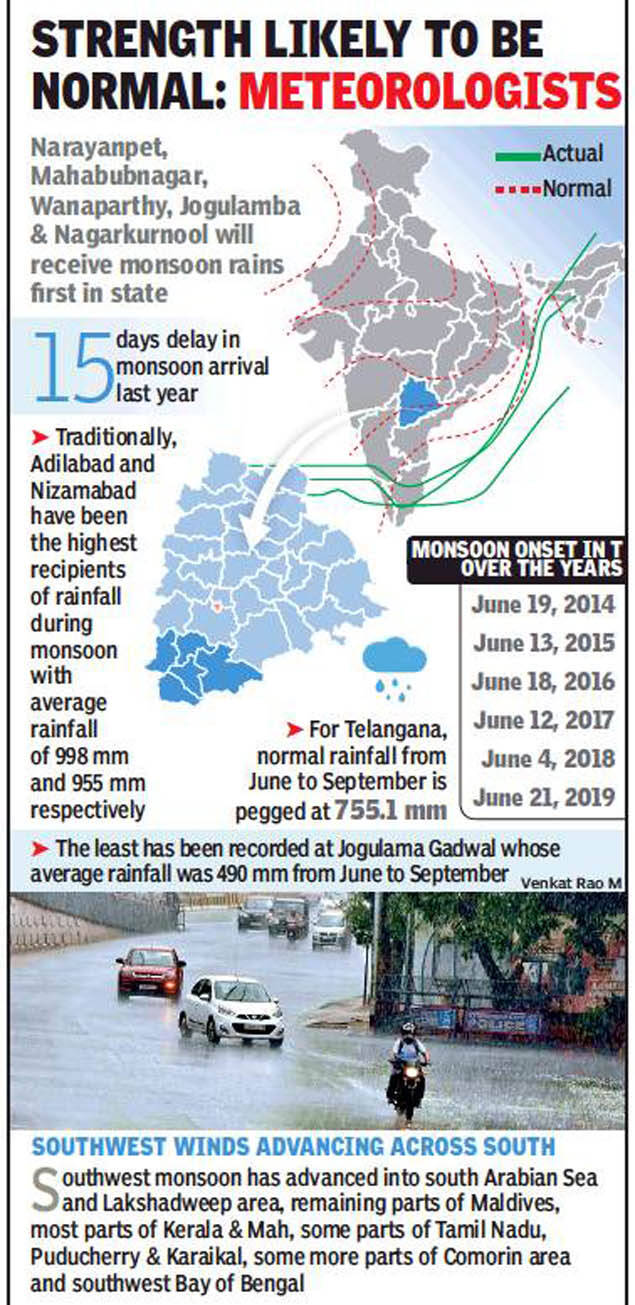 As per the long-range forecast update released by IMD, Hyderabad, the state will receive 102 per cent of long period average between June and September. "Ideally, southwest monsoon should enter the state by June 8. We are expecting a slight delay by four days. The entire state will experience normal rains this year," said Naga Ratna, director in-charge, IMD, Hyderabad. For Telangana, normal rainfall is pegged at 755.1 mm.
The city has already been experiencing pre-monsoon showers for the last few days resulting in drop in mercury levels. On Monday, the maximum temperature dropped to 34.2 degrees Celsius from 37.3 degrees Celsius recorded on Sunday. Hafeezpet received 33.5 mm pre-monsoon showers and Balanagar recorded 6.3 mm of rainfall on Monday. Meteorologists forecast that pre-monsoon showers are likely to continue till June 3 following which rainfall activity is likely to take a short break and make way for southwest monsoon by June second week.
Over the last few years, the state observed a deficit of up to 20 mm. Every year, progress of monsoon is slow and gradual across the state. "This year, the intensity of rain will pick up from June third week and shall continue till September. Monsoon rains will first cover southern districts of Telangana such as Narayanpet, Mahabubnagar and gradually move to the northern districts," said Naga Ratna.
According to meteorologists, southwest monsoon has advanced into entire south Arabian Sea and Lakshadweep area.