Written by
Prashant Pandey
| Pratapgarh |

Updated: June 20, 2015 1:00:27 am
Smoke billows from Hotel Goyal Residency in Pratapgarh on Friday. (Source: PTI photo)
An early morning blaze turned a hotel in the main city area of Pratapgarh district into a "virtual gas chamber", leaving 10 persons, including two women, dead and more than a dozen injured. Barring one person identified as a staff of the Hotel Goyal Residency, all the other victims were guests.
The police had identified seven of the bodies when the last reports came in. They had also detained owner of the hotel, Sunil Goyal, for questioning.
"An FIR for culpable homicide not amounting to murder has been registered against the hotel management. Hotel manager, Lokesh Pant, allegedly fled soon after fire broke out early in the morning," Additional Superintendent of Police (East), Akhileshwar Pandey, said, adding they were yet to begin the probe into the technical aspects of the matter.
Meanwhile, the fire department officials confirmed that the four-storey hotel did not have any No Objection Certificate (NOC) from them. Also, there were not enough fire extinguishers in the building.
As per the police and the fire department, they got calls around 4.50 am about fire having broken out in the hotel in Babaganj locality, in the heart of the city.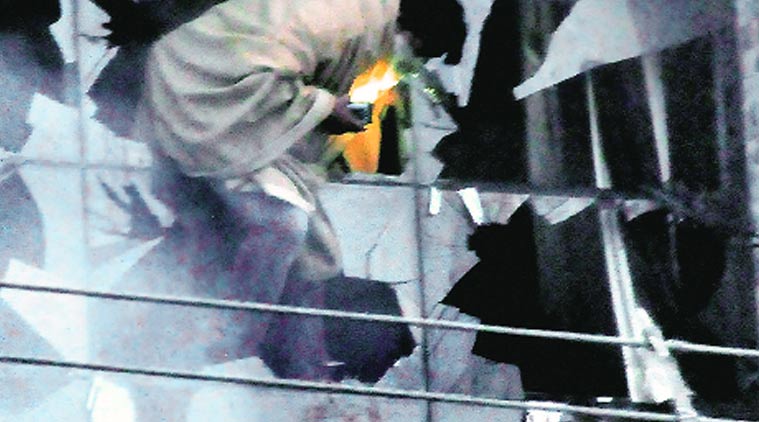 Rescue work in progress in Pratapgarh on Friday. (Source: PTI photo)
"The fire broke out in the basement and soon engulfed the restaurant on the ground floor. Soon, toxic fumes engulfed the entire hotel, including the guest rooms on the top two floors. Most of the guests were sleeping, and responded late," said Circle Officer (City), M P Salonia. Prima facie the cause of fire appeared to be short circuit, he said.
Nearly, two dozen people, including staff, were present in the hotel at the time. Firemen had to break glass panelling at the front to rescue the trapped people. However, by the time help reached, 10 had died. Seven of the injured were referred to Allahabad.
Fire Station Officer (City) A A Hussain said: "The hotel didn't have a regular NOC. When they started operations, they were granted a provisional NOC, which was cancelled a year later after hotel failed on basic parameters. Despite reminders, they did not pay heed".
Hussain said the last inspection of the hotel was carried out a couple of months ago and the hotel owner had assured that requisite changes will be made.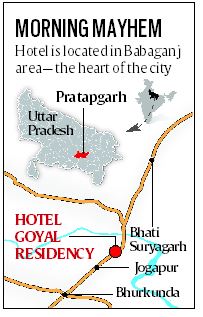 It has came to light that Sunil Goyal owned a furniture showroom and had got into the hotel business in 2013. He had bought a plot, along with one Bhole Singh, and both constructed two hotels, adjacent to each other. An employee of the neighbouring Hotel Shashank, however, said the fire did not spread to that building owning to a partition.
The fire personnel found only a few fire extinguishers in the hotel. "We cannot comment on whether they were effective. Also, the hotel had only one entry and exit point and the entire structure was packed with glass panelling in the front. There was no space for the smoke to escape. Most of the deaths were due to asphyxiation," said Hussain.
Chief Medical Officer Dr Vinod Pandey said: "Only a couple of persons had sustained burn injuries. The deaths were caused primarily due to asphyxiation. Those who managed to jump out, sustained minor injuries. At least seven persons had to be referred to Swaroop Rani Nehru Hospital in Allahabad. But, barring one person, who has sustained spinal injury, the condition of the other was reported to be out of danger".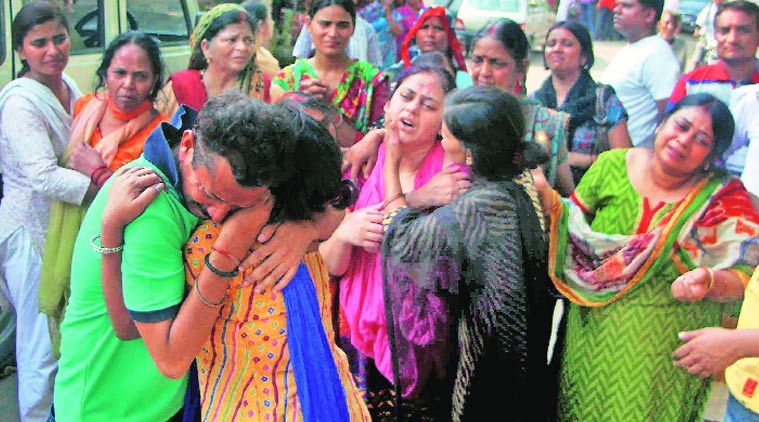 Family members mourn the death of Manoj Sharma at his residence in Allahabad on Friday. (Source: PTI photo)
Of the deceased, seven have been identified as Khaliq Kirmani (50), a resident of Barabanki; Vasant Narayan (35), Satyavrat (40) and Om Prakash (35), all residents of Lucknow; Manoj Sharma (35), a resident of Allahabad; Brijesh Kumar (35), a resident of Patti (Pratapgarh); and Dilip (22), a resident of Allahabad and also the hotel's computer operator.
"One woman is said to be Priyanka from Ranchi (Jharkhand), but we are yet to identify the body," said Salonia.
CMO said Satya, Vasant, and Om Prakash had come for a blindness control programme. "They had come here to assess the prevalence of eye-related diseases and were to leave Thursday evening. They changed the programme at the last minute and stayed back to visit some more villages and unfortunately met with this tragedy," he said.
Satyavrat was a manager with the Indira Gandhi Eye Institute and Research Centre, Lucknow, which is run by the Rajiv Gandhi Charitable Trust (RJCT). Congress president Sonia Gandhi, her son and party vice-president Rahul Gandhi, and daughter Priyanka Gandhi are on the Board of Trustees of RJCT, the CMP added.
Kirmani was with a private insurance firm. "Last I talked to him was around 8 pm Thursday," said Ghazali Kirmani, his brother, also an employee in the same firm.
Sharma was a managerial level officer in the marketing and sales department of Hindi Daily Amar Ujala. "He even called up his wife to inform about the fire told her he was feeling choking on smoke," said Rajesh Vishwakarma, a freelance journalist.
Brijesh Kumar was reportedly a cashier in power department in the local office at Patti.
Durgesh Nandan Singh, a security guard deployed at an under-construction bank office, adjacent to the hotel, was among the first ones to respond for help. "I saw at least two person lying injured on road after they jumped off from second floor," Singh said adding he laid down some bamboo poles, brought their for construction purpose, using which a couple of guests managed to climb down.
📣 The Indian Express is now on Telegram. Click here to join our channel (@indianexpress) and stay updated with the latest headlines
For all the latest India News, download Indian Express App.