MUMBAI: The flattening of the Covid
curve
in Mumbai is most apparent in the
death
charts of
BMC
's
hospitals
: They have witnessed between 65% and 80% drop in the fatality
rate
over the past few weeks.
The BMC's statistical analysis shows the case
fatality
rate at KEM Hospital, which is reserved for the most severe
Covid
cases, has seen an 82% drop from 34 deaths in June to six on July 13. At Nair Hospital, which was the city's first dedicated Covid facility, the death rate has fallen 65%—from 20 cases in June to 10 in the first week of July and further to seven this week. The third civic hospital at Sion has registered a 72% drop— from 25.7 in June to seven now.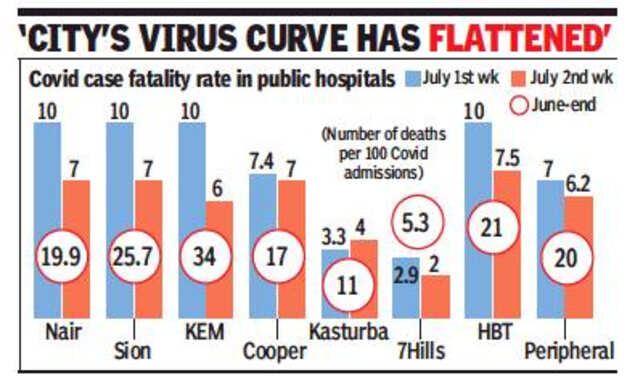 "Mumbai's Covid curve has flattened out and our hospitals are in sync with it," said Manisha Mhaiskar, principal secretary from Mantralaya on deputation to the BMC for Covid care. "The case fatality rate or the number of deaths per 100 Covid-19 cases is in single digits in most of our hospitals," she added.
In May, at the height of Mumbai's Covid mayhem, the main BMC hospitals—KEM, Nair and Sion—accounted for most of the city's Covid deaths. On May 10, for instance, when the city's Covid toll stood at 489, KEM Hospital—counted among the country's best medical schools—accounted for a third of deaths at 163.
"Most patients would come with advanced disease and a sizeable number would succumb within 24 hours in hospital, but that is not the case now," said KEM Hospital dean Dr Hemant Deshmukh on Tuesday.
The high toll prompted municipal commissioner I S Chahal to start Mission Save Lives on June 29. In the first week of July, KEM Hospital's fatality rate fell to 10 and is now six. In Seven Hills Hospital, Andheri, the fatality rate of 5.3 in June has halved to two deaths per 100 Covid admissions.
One of the contributors to the lower death rate is the mandatory rounds by senior doctors. "We have now made it mandatory for senior doctors to take a round in the morning and another in the evening," said Mhasikar. This, along with the availability of Covid medicines, right from remdesivir to tocilizumab, has helped.
Nair Hospital dean Dr Mohan Joshi said doctors understand the disease better and have instruments to treat it.
"Besides medicines, we have a wider range of oxygen support tools, ranging from O2 masks, non-invasive ventilators, concentrators and high flow nasal cannula that can deliver a flow rate of up to 60 litres per minute," he said.
Relaxation of testing norms, early detection and initiation of treatment have played a key part. "Patients come early, giving us a bigger window to treat. The patient load, too, has decreased, allowing us to manage cases better. Besides the drugs, some of our patients have also got plasma therapy under the pan-India trial," said Sion dean Dr Ramesh Bharmal, adding physiotherapy in wards and counselling for psychological support is proving effective as well.
At Bal Thackeray Trauma Hospital, Dr Vidya Mane said even patients from the slums are seeking care early. A concern for Sion Hospital, though, is critical patients coming from Mumbai Metropolitan Region.
Meanwhile, KEM is on the verge of adding 25 ICU beds in the first week of August. "Despite the plateau in the number of Covid cases at present, we are going to stay vigilant and prepared," said Dr Deshmukh.