By:
PTI
| Kanpur |

Published: February 6, 2017 10:18:09 pm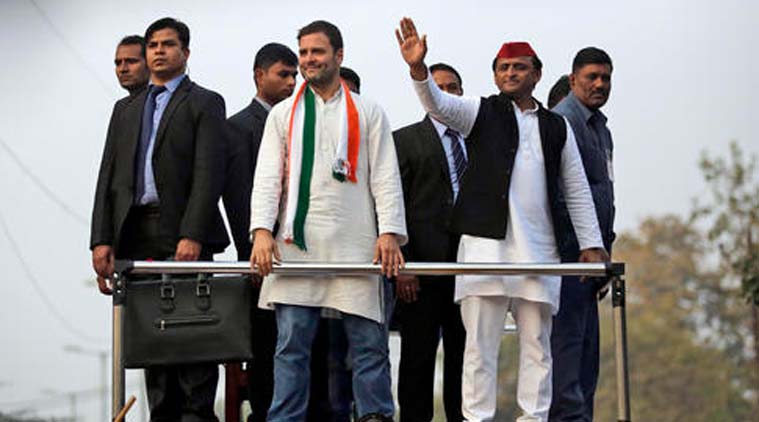 Rahul Gandhi and Akhilesh Yadav during poll campaign.
Even after the intervention of Congress vice-president Rahul Gandhi and Samajwadi Party (SP) chief Akhilesh Yadav, the two parties appear to have been unable to settle the seat-sharing arrangement over Maharajpur and Kanpur Cantt Assembly seats. The joint SP-Congress rally here yesterday witnessed candidates of both parties separately asking for votes for the Maharajpur and Kanpur Cantt seats.
Watch what else is making news
SP's Hassan Rumi had initially filed his nomination for the Kanpur Cantt seat. However, it was later given to Congress candidate Sohail Ansari after the alliance was announced. Yet to withdraw from the seat, Rumi said he has "not yet received any instruction from the party high command regarding it and that is why he will contest the election".
Sohail was seen campaigning yesterday and asking people to vote for him. Meanwhile for the Maharajpur Assembly seat, the SP had given ticket to senior leader Aruna Tomar but that was later given to Congress leader and former Akbarpur MP Rajaram Pal after the alliance.
The SP had asked Tomar to withdraw her nomination from the Maharajpur seat but she got herself admitted to a hospital citing health reasons. Yesterday, both Tomar and Rajaram were in the rally and asked for votes for the same seat.
Samajwadi Party chief Akhilesh Yadav later said they (alliance) would resolve the issue soon. Congress Candidate Rajaram Pal said he would definitely contest from Maharajpur seat as he is the candidate of the alliance while Tomar said the Samajwadi Party has asked her to contest from the same seat.
📣 The Indian Express is now on Telegram. Click here to join our channel (@indianexpress) and stay updated with the latest headlines
For all the latest India News, download Indian Express App.