Written by
Aniruddha Ghosal
| Kolkata |

Published: September 22, 2015 1:10:57 am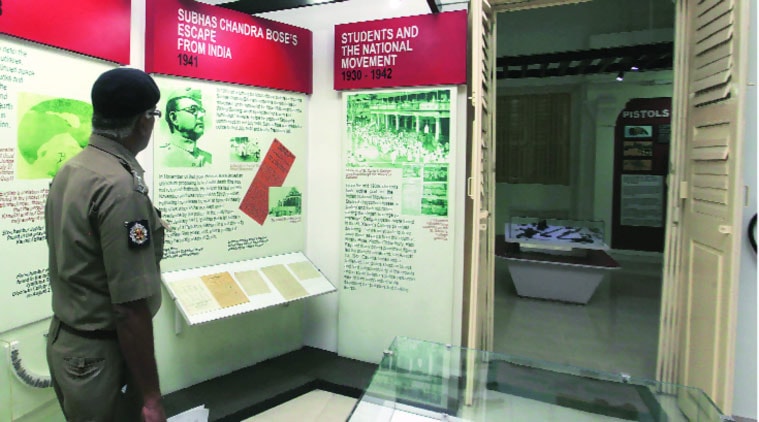 At Kolkata Police Museum where Netaji files are displayed. (Express Photo)
THE NETAJI files declassified by the Mamata government recently tell the story of not just Subhas Chandra Bose's rise, but also the slow disintegration of his Indian National Army (INA) and the eventual "dying down" of "public enthusiasm" following reports that he died in a plane crash in Japan in August, 1945.
This comes to light in a letter dated June 28, 1946, written by J J Kiani — secretary of Punjab INA enquiry and relief committee — to Major General A C Chatterjee, who was later a minister in the Azad Hind government.
He wrote, "Public enthusiasm regarding the INA as you must realise is dying down slowly and we have to do something about it to enable us to collect the required funds for the relief." Kiani wrote about problems like collecting funds for INA and the eventual decline in people's interest for the army, while reiterating that the matter was of utmost importance.
Chatterjee also wrote to Sardar Vallabhbhai Patel on July 7, 1946 expressing similar concerns about the INA and also the growing dischord within the Bose famiy. "I greatly regret to inform you that it has not been possible to effect an amicable settlement in the dispute that has arisen in the Bose family. Boseji (Sarat Basu) has been up to now very retaliable (reasonable?) and I am satisfied that he is prepared to do all that is reasonably possible to satisfy his nephews," he wrote.
Chatterjee also expressed concerns about "INA men who are still in Netaji Bhawan". "I would like to mention to you for your serious consideration and it would it be wise to replace these men by an equal member of civilians who are not likely to maintain as good a discipline as the INA men. We have to consider this both from the point of view of the nation as well as the Bose family," he said.
Another concern plaguing the INA at the time were dissenters from the Malaya, who were feared to be improperly using "the name and fame of Azad Hind government" on returning to India.
"This office must let know organisations and persons in India the real identity and nature of certain people of this Peninsula of Malaya, who might have gone or will be going to India. It is definite that they will try to make a good show of them and improper use of the name and fame of Azad Hind government and… Netaji Subhas Chandra Bose to attain their own self motives, which as had been in the part from various activities in East Asia during the past few months, they certainly do not deserve any other appreciation than to be the biggest enemies to the Indian national movements and interest also betrayers of the pledges which they have placed with Netaji and the Azad Hind government," said a letter from K R Patel, INA Defence and Relief Committee, Penang, to INA's Bengal Provincial Committee.
📣 The Indian Express is now on Telegram. Click here to join our channel (@indianexpress) and stay updated with the latest headlines
For all the latest India News, download Indian Express App.