By:
PTI
| Meerut |

Updated: October 3, 2015 6:46:53 pm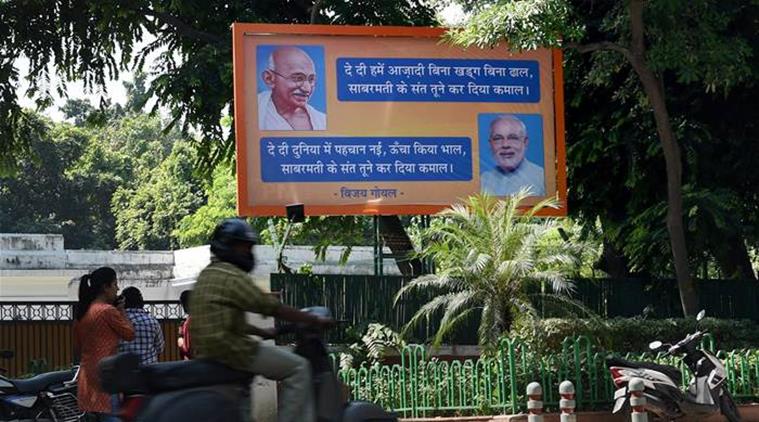 A bill board put up by BJP MP Vijay Goel at his residence presents Prime Minister Narendra Modi as "Sabarmati ka Sant" like Mahatma Gandhi in New Delhi. (Source: PTI Photo)
After BJP MP Vijay Goel, a party leader in New Delhi has now put up hoardings in the city likening Prime Minister Narendra Modi to Mahatma Gandhi.
Hoardings praising Modi and the Mahatma as "favourite sons of Gujarat" have been put up by coordinator of BJP UP's business cell Vineet Agarwal Sharda in Shastri Nagar, Abu lane and near the district court.
However, State BJP president Laxmi Kant Bajpai said the party leadership doesn't agree with such a comparison.
"I don't agree with such a comparison and it only shows the political immaturity of that person," Bajpai told PTI. Congress termed it an "act of sycophancy".
"By comparing Narendra Modi with Mahatma Gandhi, BJP leaders have crossed all limits of sycophancy. Modi is, maybe, the second Mahatma for BJP but for the people of India, he can never be Mahatma Gandhi," said UP Congress chief Chaudhary Yashpal Singh.
Samajwadi Party leader Gopal Agarwal said BJP is trying to "tease the populace" by trying to compare Narendra Modi with the Mahatma.
Goel, a Delhi BJP MP, had yesterday put up a hoarding in front of his official residence likening the Prime Minister to the Mahatma, inviting sharp reactions from rival parties.
📣 The Indian Express is now on Telegram. Click here to join our channel (@indianexpress) and stay updated with the latest headlines
For all the latest India News, download Indian Express App.