NEW DELHI: In a major boost to economic activities in the capital, CM Arvind Kejriwal announced on Monday that they were doing away with the odd-even scheme for opening of shops. All shops will now be allowed to open at the same time. This, along with the extension of the closing time to 9pm, will give traders a fighting chance to revive business. Industrial establishments have also got some relief with the rule for staggered timings withdrawn.
Also, barber shops and salons have finally made the cut. They will now be allowed to operate though spas will remain closed. Since proximity and contact is given here, it would be interesting to see how barbers change their drill and incorporate social distancing measures besides sanitising their shops and equipment.
The Metro can't operate yet, but the government has removed restrictions on the number of passengers in four-wheelers, autorickshaws and e-rickshaws. Two-wheelers can now carry pillion riders.
The CM also announced that the city's borders will be sealed for a week.
Metro, malls, educational institutes to remain shut
Besides helping auto and e-rickshaw drivers in getting more passengers, it is also expected to gradually make more people feel comfortable about commuting. However, buses will continue to ferry only 20 passengers at a time.
In keeping with the MHA order and to keep the spread of Covid-19 in check, no relaxations have been allowed within containment zones except for essential services through doorstep delivery.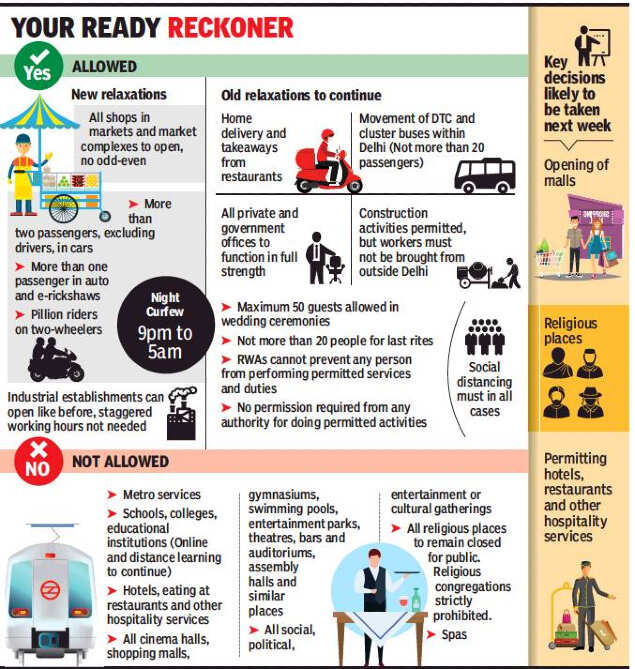 Delhi Metro services will remain suspended and all educational institutions, hotels and restaurants, shopping malls, gyms and religious places will remain closed. A decision on allowing malls, hotels and restaurants and places of worship to open is expected to be taken next week. All essential movement is exempted from the 9pm-5am curfew.
The CM said that all relaxations announced earlier — like allowing all private and government offices to work with full strength, home delivery and takeaways from restaurants, and construction activities — will continue to remain in force.
Kejriwal's announcements came as a big relief to traders. "The traders had pointed out that they have to pay both rent and salaries to employees besides electricity bills. The odd-even rule left the customers confused because they did not know which shop was opening on which day. Now footfall will increase and business will grow," said Brijesh Goyal of the Chamber of Trade and Industry.
This will also salvage and create more jobs and fetch more tax revenue for the government, which is facing an acute financial crunch due to the extended lockdown. Around 85% reduction in the tax mop-up has forced the government to seek Rs 5,000 crore assistance from the Centre for paying salaries to the employees and meet routine official expenditure.
In a bid to check the spread of the coronavirus, the government has asked district authorities to strictly implement national directives like social distancing in offices and public places (six-foot distance), sanitisation of public transport vehicles, mandatory use of face masks, frequent sanitisation of offices and common facilities besides barring spitting in public places, which is a punishable offence. Any violation of the guidelines is punishable under the Disaster Management Act, 2005.