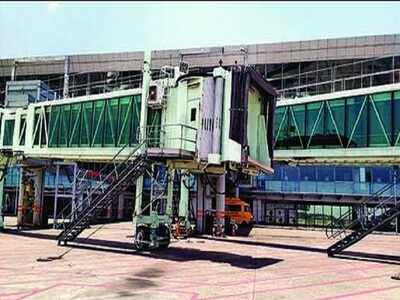 KOLKATA: It will take one more month to repair three aerobridges at Kolkata airport that were damaged by Cyclone Amphan a month ago, when gusty winds clocking 133 km/hour slammed into the steel and glass building. Work is currently under way on the terminal roof.
"Of the 18 aerobridges in the integrated terminal, three were damaged by the cyclone. Though they are still in use when the weather is dry, we have to shut them down when it rains as leaks have sprouted on the roof. The folds in the complicated roofing structure as well as the joints between the profiled metal sheet in the roof and the glass on the facade have developed gaps. We have employed reputable roofing solution provider Llyod Insulations to carry out the repairs but it will take at least a month to complete the work," airport director Kaushik Bhattacharjee told TOI.
The segment of the aerobridge that has been damaged is the portal, a fixed corridor that extends from the terminal building and connects with the retractable arm of the aerobridge that then links with the aircraft. Each portal at Kolkata airport has two levels, one connecting to the security hold area used by departing passengers to board the plane, and the other to the arrival level, used by incoming passengers after alighting from an aircraft.
The high-velocity blasts damaged the sealants used to plug the joint between the facade glass panels and the steel roof panels. But joints were exposed in the past as well by birds pecking at sealants. "We carry out regular maintenance during which missing bits of sealant is replaced. But the cyclone has stripped off big sections," the director said.
Officials expect the roof work to be completed by June 30. The cyclone stripped one of the three steel sheet layers and exposed the joints in multiple places. This caused rainwater to drip into the departure terminal, leading to urgent repairs. That work, Bhattacharjee said, had been completed.
The overall damage to the terminal caused by the cyclone has been assessed at Rs 80 lakh. The airport operator has claimed insurance for which the survey has been completed.