Written by
Raakhi Jagga
|

Updated: April 20, 2020 3:46:24 pm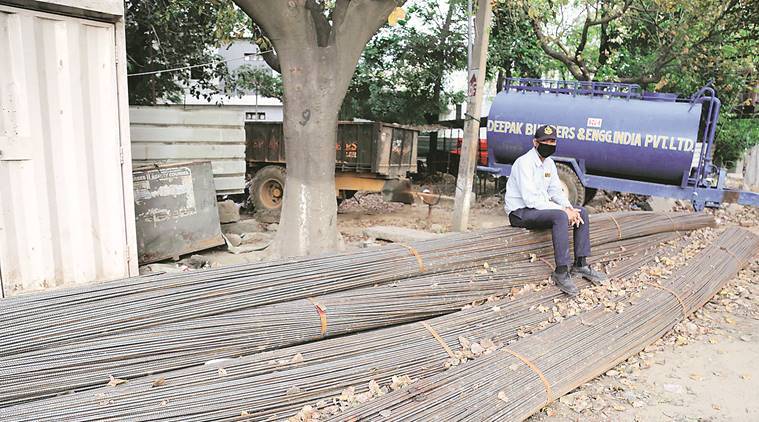 A security guard keeps watch on construction material in Ludhiana on Sunday. (Express photo: Gurmeet Singh)
With selective lockdown relaxations set to kick-in in several non-containment areas across the country on April 20, three COVID-free districts of Punjab – Bathinda, Fazilka and Tarn Taran – have decided to strictly implement the curfew till May 3.
BATHINDA
Bathinda district authorities Sunday said they have no plan to start  any economic activity in the district from April 20.
While DC B Srinivasan's order has not gone down well with a few industrial organisations, he seems to be firm on not letting the district's guard down. "We are in the green zone due to lockdown and strict implementation of curfew. So, we need to implement the same for few more days. Labour movement can cause problems. No doubt we are a zero-case district till now, but we want to remain a zero-case district in the days to come. So residents by and large are happy with this decision. Those who have some issues can approach me and I can clarify their doubts."
He added, "We won't be starting any construction activity. Few essential services units are already operating and 2-3 large scale units which have quarantine centres for workers inside are already operational. No new permissions will be given. We are not even issuing any curfew pass unless it is very urgent. Anyone coming from other district due to emergency will be quarantined for 14 days."
Bathinda is Lok Sabha seat of Harsimrat Kaur Badal, who is also a Union Minister. Bathinda (Urban) is represented in the Vidhan Sabha by Punjab Finance Minister Manpreet Singh Badal.
FAZILKA
The district, in fact, has decided to further tighten rules for delivery of essential services. DC Arvinder Pal Singh Sandhu said: "Medicines will now be delivered from 5 am to 8 am (3 hours). Earlier, they were available for five hours. Vegetable supply in mandis will now be allowed on three days – Tuesday, Thursday, Saturday. Earlier, it was allowed for fixed hours on all days."
The DC added, "We are a zero-case district so far. It is a border district which has shellers in majority. These shellers are these days working as mandis are operational for wheat procurement. Agricultural activities are also being allowed with riders. Any permission related to construction, brick kilns has so far not been allowed, but can be considered on case-to-case basis."
TARN TARAN
Tarn Taran DC Pardeep Sabharwal said that all the establishments, including industry, are closed for now and will remain shut till the next order. "There are reports of some relaxations in other districts. But there should be no doubt that there is no relaxation in Tarn Taran. Complete Lockdown will continue till May3," Sabharwal said.
MANSA
While Mansa has recorded 11 positive cases, it has not reported any for the last 12 days. Gurpal Singh Chahal, DC Mansa, said, "We have 11 cases from one block – Budhlada. We have no plans for giving any new permissions. We will maintain status quo and will think of giving relaxations in a phased manner after all the patients are cured."
BARNALA
Barnala had planned giving permissions to highway dhabas, AC, Cooler repair shops, but after CM Capt Amarinder Singh issued new instructions , the DC announced a status quo.  Barnala DC T P S Phoolka: "We are maintaining status quo and no new relaxations will be given. Though we have no new case for the past 11 days and among the two we had, one is cured and another one has died, we have put a hold to all planned permissions. Few large scale units are already operational as per guidelines."
LUDHIANA
Although Ludhiana DC Pardeep Aggarwal had issued a list of guidelines for opening certain operations in the morning, he revised them later in the day.
"We will allow opening of industry in rural areas and in dedicated focal points only if permission is given by General Manager, District Industry Centre. Industries need to make their units as quarantine centres or they need to create transportation facilities for workers maintaining social distancing. We will allow construction of National Highways, flood relief works, canal repairs after the concerned departments seek permissions. "
FARIDKOT
Kumar Saurabh, DC, Faridkot, said,"We have allowed two projects of PWD and two projects of cleaning of drains. Apart from this there is no relaxation at all so far."
MUKTSAR
Muktsar DC Kumar Aravind while talking with The Indian Express said,"As of now, no one has come seeking permission related to construction activity. We will allow construction  after looking at the applications. The industries' applications will also be decided on day-to-day basis….based on construction activities, we will allow brick kilns to operate in next phase."
FEROZEPUR
Kulwant Singh, DC Ferozepur said that "construction will be allowed outside Municipal limits.  Ferozepur does not have any major industry. We have brick kilns. They can operate after fulfiling all guidelines".
Apart from this, distribution of books for schools students via home delivery is allowed after permission from district education officer. AC, cooler, fans repair shops will be allowed to operate from 8 am till noon after seeking permission.
MGNREGA works will also be allowed, along with construction of national highways. Sale of cement is permitted after getting permission. Industrial units, kilns outside MC limits are allowed to operate after getting nod from district authorities.
Truck repair shops, dhabhas on highways can be operated post permission from Roadways and Transport Authority of Ferozepur.
DC's order said that construction outside MC limits will allowed after considering the application.
SANGRUR
Sangrur DC Ghanshyam Thori said," We will only allow construction activities by  government departments. Other restrictions will continue as it is. Certain industries related to essential services are continuing already."
AMRITSAR
Amritsar DC said that industry in rural areas can start work under strict guidelines.
"Small scale industry in rural area can work by following instructions. It should have 30-seater bus for every 10 labourers  so that labourers can reach the unit. All labourers should have medical insurance. We will give permission after being satisfied that they have made all arrangements,," said Amritsar DC Shiv Dular Singh Dhillon.
GURDASPUR
Gurdaspur DC Mohammad Ishfaq, however, maintained that curfew will continue and there will be no relaxation.
"We will inform public if any relaxation is to be given in curfew in coming days," he said.
PATHANKOT
Pathankot DC Gurpreet Singh Khera also denied having given any relaxation so far.
KAPURTHALA
Kapurthala DC Deepti Uppal said that industrial and construction activity will only be allowed after permission from the district industry department. She said that 'takeaways' from dhabas is allowed as due to wheat procurement several trucks will ply on the highways.
"For brick kilns, we have already given permission and operations are going on with proper social distancing," said the DC.
NAWANSHAHR
Nawanshahr DC Vinay Bublani said, "We have allowed NHAI to resume the construction work on Nawanshahr-Chandigarh Highway as their work is time-bound. Subsequently, our other infrastructure projects would also be started soon once we get details about those from the concerned departments."
He said that so far they have not allowed any dhaba to open, but have "allowed home delivery of books and other stationery items required by students".
JALANDHAR, HOSHIARPUR
DCs of Jalandhar and Hoshiarpur too have not given any such relaxation.
(With Inputs from Anju Agnihotri Chaba in Jalandhar and Kamaldeep Singh Brar in Amritsar)
📣 The Indian Express is now on Telegram. Click here to join our channel (@indianexpress) and stay updated with the latest headlines
For all the latest Ludhiana News, download Indian Express App.
© The Indian Express (P) Ltd