JAIPUR: The state's death toll touched the grim milestone of 1,500 on Thursday riding on 14 more Covid casualties in the last 24 hours. On the cumulative count, the state recorded the highest one-day record for 14 days in a row logging 2,193 cases, which took the overall tally to 1,37,485.
Out of 1,500 deaths, Jaipur contributed 322, Jodhpur (145), Bikaner (113), Ajmer (106) and Kota (101) accounting for 52% deaths in the state. Jaipur, Jodhpur, Bikaner, Ajmer and Kota collectively reported 787 deaths, while the rest 713 fatalities were reported from other 28 districts.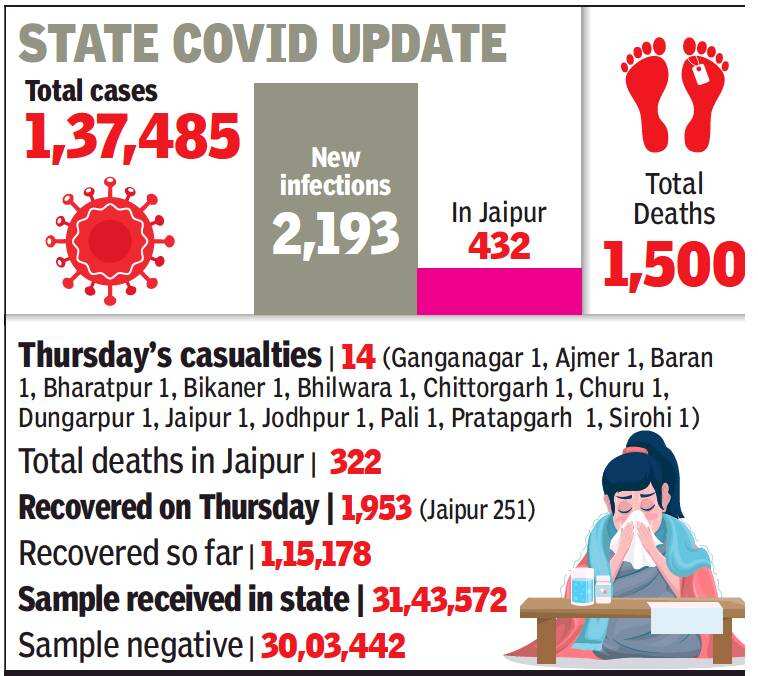 September remained the worst month in terms of Covid deaths with 53,599 infections and 430 deaths. On the brighter side, the mortality rate stood at 0.8%, the lowest in comparison to other months.
Jaipur reported 50% of Covid cases of the overall tally in September. Till August 31, Jaipur had reported 10,697 cases which rose to 21,488 on the last day of September. The opening day of October has not brought any relief. It started with record cases.
Active cases are continuously increasing in the state as it touched a new high of 20,807. Jaipur has 7,949 active cases currently, followed by Jodhpur (4,448) and Kota (1,410).
A health department official said with the increase in Covid cases, facilities for patients have also been increased. "We have added almost 300 beds in RUHS Hospital. Earlier, there were 500. We have been regularly upgrading our facilities for the benefit of patients," said a health department official.
Districts which reported new cases are Jaipur (432), Jodhpur (313), Bhilwara (193), Bikaner (156), Ajmer (89), Alwar (88), Udaipur (85), Jalore (84), Pali (78), Nagaur (67), Kota (53), Sriganganagar (50), Jhunjhunu (48), Sikar (45), Dungarpur (43), Sirohi (41), and Hanumangarh (40).