Written by
Hamza Khan
| Lucknow |

Updated: July 19, 2015 12:00:26 am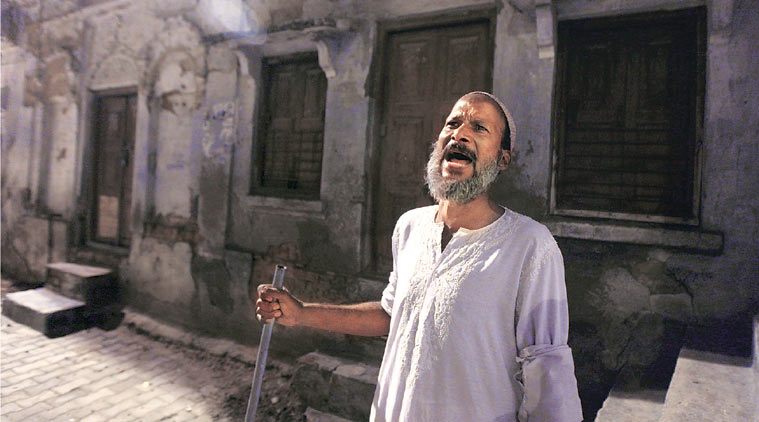 Mohammad Taskeen or 'Tutu bhai' has been waking up people for the Ramzan feast for 44 yrs. (Source: Express photo by Vishal Srivastav)
Thak, thak, thak…Rhythmically tapping the street with his thick aluminium stick at 2.30 am, 50-year-old Mohammad Taskeen or 'Tutu bhai' negotiates his way through the extremely narrow lanes of Sohbatiya Bagh in old Lucknow. Every few minutes, he breaks into a heavy, throaty call, ringing through the street — "Rozedaroooo uthiyeee". It's an alarm for people to wake up for sehri, the pre-dawn meal during the month of Ramzan. Taskeen has been doing this for 44 years. People like him are called sehar khans in Kashmir, but these night walkers have no name in Lucknow. Their numbers have been dwindling, and only six are estimated to be left in the city now.
While Taskeen only leaves his home in Sohbatiya Bagh in old Lucknow around 2 am, he can't sleep beyond midnight, when he starts checking the wall clock every 15 minutes. He hurriedly gulps down a glass of water and puts on a crisp white kurta-pyjama before leaving.
Slamming his stick on the ground with his right hand, Taskeen first stops at a point across a mosque near his home, cups his mouth with his left hand and shouts in the direction of a house — "Bhayya Mufeed!". "Salamalaikum," yells back a voice from inside the house to confirm they are awake. His job done here, Taskeen heads to other streets, clarifying, "I knock only on the doors of people who have specifically asked me to do so."
Fifteen minutes later, Taskeen is on an arterial road in Pata Nala, an area in the old city famous for its biryani. There are many streets to cover here, and he does the whole round of only some lanes. As he finds a vantage point to give out a call, he points to a minaret. "See that? My voice goes till there." Down a few blocks more, Taskeen runs into Shamsuddin, 60, sitting outside his home. "I have seen people like him grow old, I have seen their kids being born," he says. Waris, 21, walking past Taskeen, laughs, "I used to get very scared as a child when he would yell at night."
At his next stop, Raja Bazaar, Taskeen calls out to "Munna bhai", whose home he has been visiting since childhood. "I have changed my route a lot over the years, added new homes, but there are some houses I can't miss," he smiles.
Mohammad Junaid, 25, also wakes up people for sehri. But unlike Taskeen, whom he runs into, he does it for sawaab — a form of reward in Islam. Taskeen is by then making his way through Sirke Wali Gali. "There are some Hindu homes here, but people have never objected to my calls," he says.
While his job may seem simple, Taskeen says he learnt the skills as an apprentice under Haji Qamalu. On his rounds, he has to factor in time, identify the best vantage points, know who will wake up with one call and which streets he will have to visit again. He carries no watch, but as he points out, he has his round down like clockwork. "I know it is 2.38 am when I walk past the Razzaqi mosque. As a kid, I used to follow Haji Qamalu with my own little stick to keep away dogs," he recalls.
He is disappointed his elder son Shamsa doesn't want to follow in his footsteps. "I wanted to teach him… there are youths who want to follow me, but they are insincere," he sighs. For Taskeen, this work is his only "shauhrat, izzat (fame, honour)".
By 3 am, he has covered most streets on his itinerary, hundreds of houses and at least 20 mosques. Back at home now, he relishes a plate of dal-sabzi and chappatis. His wife and three of his children — Shamsa (18), Sagheer (16), and Moazzam (10) — are also fasting. The youngest Raiba (7) is fast asleep. By 3.37 am, as the time to wind up sehri approaches, Taskeen has a few more glasses of water and goes to the mosque. After namaaz, he is home by 4.30 am and settles down to rest on the roof of his house.
In many areas in the old city, before phones arrived and loudspeakers made it to mosques, troupes of qawwals would roam the streets during Ramzan, with fakirs reciting nazms.
"Their voices would light up the streets more than lanterns could," says Nawab Jafar Mir Abdullah, a descendent of the erstwhile royal Awadhi family.
By 11.30 am, Taskeen is up and about again. He goes down and opens his small sweet shop, located at the entrance to his home. He used to be a welder before he lost his thumb in an accident.
Shutting his shop around 8 pm, for a brief rest before his night rounds again, he points out that he doesn't even own a mobile phone as they make him "uncomfortable". "I wake up people by their name, I know each one of them personally… A cellphone or clock cannot replace this."
📣 The Indian Express is now on Telegram. Click here to join our channel (@indianexpress) and stay updated with the latest headlines
For all the latest India News, download Indian Express App.