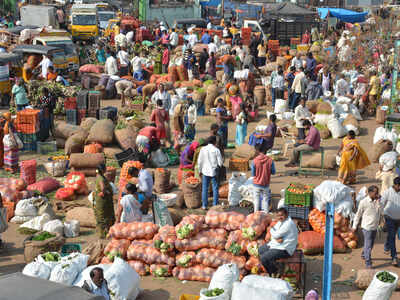 Picture for representational purpose only.
JAIPUR: With the declaration of lockdown in Rajasthan, people have been flooding Muhana Mandi, the vegetable market, to purchase vegetables and sell them as vendors. This has increased the footfall in the market and the mandi association has been demanding to either increase the timing to open mandi or keep the mandi shut for two days a week.
Street vendors and small shopkeepers who cannot open their outlets due to corona guidelines have turned vegetable vendors because it comes under essential services.
According to the Muhana Mandi Association, around 3,000-5,000 people visit the market every day. Muhana Mandi Association has declared shutdown on May 8 to keep the footfall in control. According to the guidelines, essential services are allowed to open from 6am to 11am that has created further congestion in the vegetable market. Rahul Tanwar, president of Muhana Mandi Association, said, "Due to the five-hour timing and people going out of business, there is a rise in the number of vegetable vendors. To earn a livelihood, people are rushing to the market. If the government increases the timing of the market then the crowd can be controlled or else this place may become dangerous. We will be writing to the district collector soon regarding this."
Majority of the street food sellers, delivery boys and pan shop owners have started selling vegetables. In Raja Park and Malviya Nagar, people with stalls selling different street foods have taken up the profession of vegetable sellers. Instead of street food items, they are selling vegetables in their carts.
It is, however, unlikely, that government will allow vegetable markets to remain open after 11am due to rise in corona cases. Muhana Mandi Association has demanded to keep the mandi closed on Saturday and Sunday as weekends are more crowded and the association wants to prevent the mandi premises from turning into a super spreader.
FacebookTwitterLinkedinEMail