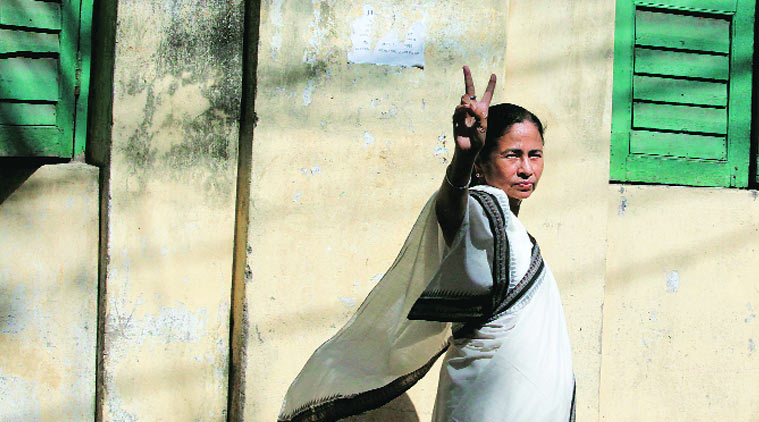 Mamata Banerjee
Ruling Trinamool Congress is expecting to win it big when results for the 92 civic bodies, including the politically important Kolkata Municipal Corporation, are announced on April 28 (Tuesday). The violence-marred two-phase elections are being seen as a litmus test for all the political parties ahead of next year's Assembly elections.
This is the first major municipal election in West Bengal in which the TMC contested all the seats. In the last municipal polls in 2010, it had fought in alliance with the Congress.
When the counting begins at 8 am — all the results are expected to be out by noon — the TMC will open its account 3-0. It has already won three municipalities — Gayeshpur in Nadia, Arambagh and Tarakeshwar municipalities in Hooghly district — without a contest. In Gayeshpur, it has bagged 17 out of a total 18 seats uncontested, while in Arambagh and Tarakeshwar, it has bagged 16 and 10 out of 19 and 15 seats, respectively without a contest.
The Opposition BJP and the Left have accused the TMC of winning the three municipalities by "sheer terror", a charge rubbished by the ruling party. Partha Chatterjee, the TMC party spokesman, had termed allegations of use of terror as a bogey raised by the parties that have already lost the polls.
While there is a little doubt over the TMC's victory, political experts will keep a close eye on the results to see who emerges at the second spot. After the 2014 Lok Sabha polls, the Bharatiya Janata Party has been working hard to occupy the position as main opposition party in West Bengal, dislodging the Left Front combine. Even in Kolkata, it has surged ahead in more municipal wards than the Left Front.
As the results are declared on Tuesday, the Left Front, however, will be expecting to gain some lost grounds as was evident from trends in the bypolls to Basirhat Lok Sabha in North-24 Parganas and Krishnagar Assembly seat in Nadia district a couple of months ago. In Kolkata, the Left Front had appeared stronger than the BJP in the run up to the polls in terms of campaign and actual mobilisation of cadres on the ground on polling days.
Siddharth Nath Singh, BJP observer for Bengal, said: "The general impression is that the municipal polls have been rigged by TMC… We still have hope in the public opinion but not in the results".
A BJP appeal in the Calcutta High Court against malpractices allegedly resorted to by TMC failed to hold ground as Justice Indra Prasanna Mukherjee observed that there was not adequate proof to hold the elections faulty and malafide.
📣 The Indian Express is now on Telegram. Click here to join our channel (@indianexpress) and stay updated with the latest headlines
For all the latest India News, download Indian Express App.