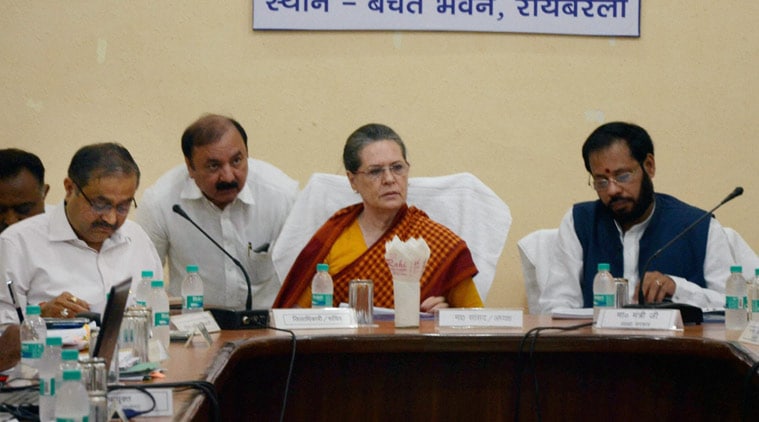 Congress President Sonia Gandhi chairing a meeting of the District Monitoring and Vigilance Committee in Raebareili on Thursday. (Source: PTI)
On a tour of Rae Bareli, Congress President Sonia Gandhi on Thursday accused the Centre of showing apathetic attitude towards her constituency, days after Rahul Gandhi alleged that the Modi government was pursuing "politics of vendetta" against them.
Sonia Gandhi, who reached Rae Bareli Thursday morning for a day-long visit, discussed with officials the progress of various development works in the area.
She did not make any comment but Uttar Pradesh's Cabinet Minister Manoj Kumar Pandey, who attended the meeting, said a resolution was passed at the meet.
He said the resolution was proposed by him and read out by Sonia Gandhi.
"The budget of roads under centrally-sponsored schemes and PM Gramin Sadak Yojana (PMGSY) for the district has been reduced, showing apathetic attitude of the Centre for the district," Pandey said, citing the resolution, and adding that the Centre's action was condemned.
Congress Vice President Rahul Gandhi, during his three-day tour of Amethi last week, had accused the Modi government of pursuing the "politics of vendetta" against his constituency.
Interestingly, the meeting hailed the Akhilesh Yadav government for its initiatives taken for farmers.
"The resolution was put by me and read out by Sonia Gandhi in which Akhileshji has been hailed for its initiatives for the farmers of the district and that too without support of Centre. The state government has given Rs 197 crore for farmers affected by unseasonal rains of which Rs 22 crore have been disbursed," the Minister said.
Soon after the meeting, Gandhi left for Bhuyemau guest house where she met family members of the victims of the recent Bachrawan train accident in which 30 people died.
She handed over cheques of Rs two lakh each to them with the assurance of all possible help.
"Soniaji has assured us all possible help while giving a cheque of Rs 2 lakh. She has asked us to be in touch and let her know if we face any problem," said Ganga Sharan Mishra, whose father had died in the mishap.
The engine and two coaches of the Dehradun-Varanasi Janta Express derailed near Bachrawan Railway Station in the district on March 20, leaving 30 dead and many others injured.
Gandhi also gave appointment letter to victim Shivendra Singh's wife Sushma, who has been given a job in a school.
Gandhi had unveiled a plaque of Nagar Panchyat Bhawan, constructed in Dalmau.
📣 The Indian Express is now on Telegram. Click here to join our channel (@indianexpress) and stay updated with the latest headlines
For all the latest India News, download Indian Express App.