CHENNAI: Some lockdown relaxations have been allowed even in Chennai, which remains the hotspot in the state, accounting for nearly 70% of the fresh cases every day. The easing will be in two stages, one from June 1 and the next from June 8.
From Monday, barring in
containment zones
, showrooms and jewellery shops can re-open and more employees can attend all offices.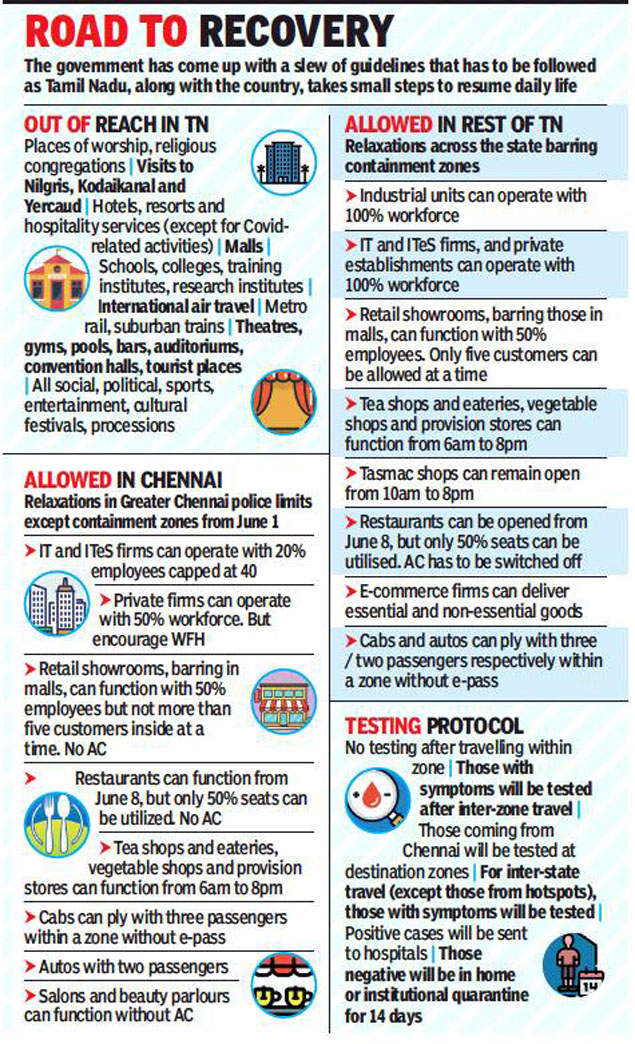 Though shopping malls, theatres, bars and public halls will remain shut across the state, salons and beauty parlours can open even in Chennai. E-commerce companies can deliver both essentials and non-essentials across Tamil Nadu other than in areas under Greater Chennai police limits.
Highlighting the steps taken by the state government in its battle against Covid-19, chief minister Palaniswami said essential goods through PDS has been offered free of cost to 2.01 crore families for the months of April, May and June. Also, 35. 65 lakh workers and drivers from informal and unorganized sectors were paid Rs 1,000 each twice. "Each conservancy worker in Greater Chennai police limits will be paid an honorarium of Rs 2,500," he said.
Since poor people in containment zones and those living in slums may not be able to maintain social distancing, a special drive will be carried out to screen them for the infection. "Affected people in Greater Chennai Corporation limits will be kept in quarantine zones for seven days and on discharge will be paid Rs 1,000," the CM said, seeking support and cooperation of people in controlling the infection.
Restaurants can open across the state from June 8, but with 50% occupancy, in whole of Tamil Nadu. But religious places will remain shut and congregations banned till June 30.
Large retail showrooms can operate, throughout Tamil Nadu, with 50% staff, but can permit only five people at a time. Air conditioning systems cannot be operated.
IT and ITeS service companies can operate with 100% employees, outside Greater Chennai police limits. But, 20% employees should be encouraged to work from home. As for Chennai, IT sector can employ only 20% of employees, but not more than 40 people.
International air travel, other than those flights operated under Centre's orders, will remain shut. Lockdown will be implemented strictly in containment zones, the statement said.
Crowd restrictions on funeral and weddings will remain with 20 and 50 people being permitted. Section 144 barring assembly of more than five people too will remain in force across the state.
The CM said schools, colleges and research institutions will remain shut but online classes would be allowed.
Tourists entry will remain banned into the hilly Nilgiris district and Kodaikanal and Yercaud towns, while hotels and resorts, except for accommodating health and police personnel and government staff for quarantine purpose, will be closed.