NEW DELHI: With its revenue falling drastically due to the coronavirus-induced lockdown and restrictions, Delhi government has sought an immediate assistance of Rs 5,000 crore from the Centre to pay salaries to its employees and meet official expenses.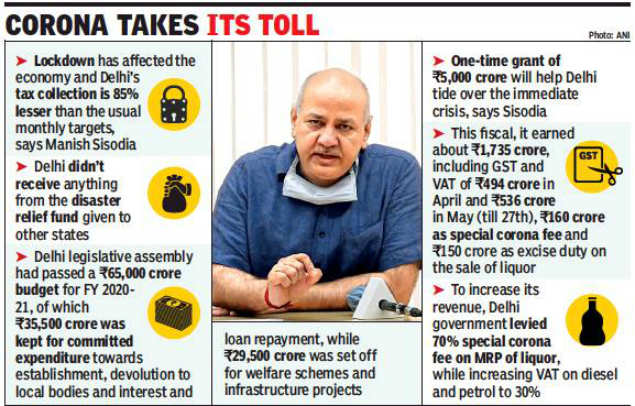 Addressing a digital press conference on Sunday, deputy CM Manish Sisodia said that the lockdown had affected the economy and Delhi's tax collection was 85% lesser than the usual monthly targets. "The major crisis before us is how to pay salaries of our employees, so I have written to the Union finance minister for urgent assistance of Rs 5,000 crore," added the minister, who also holds the charge of finance department.
Sisodia said Delhi government didn't get anything from the disaster relief fund that was given to other states, thereby causing financial problems. "It is about time we received some financial relief from the Centre to pay salaries of our employees – teachers, doctors, engineers, civil defence personnel and those involved in coronavirus relief work," he added.
Chief minister Arvind Kejriwal took to Twitter and requested the Centre to help people of Delhi "in this hour of disaster".
Delhi government needs about Rs 3,500 crore every month to pay salaries to its employees and meet other expenses. This fiscal, it has earned about Rs 1,735 crore, including GST and VAT of Rs 494 crore in April and Rs 536 crore in May (till 27th), Rs 160 crore as special corona fee and Rs 150 crore as excise duty on the sale of liquor. "We actually need at least Rs 7,000 crore," said Sisodia.
To increase its revenue, Delhi government in the first week of May had levied 70% special corona fee on MRP of liquor, while increasing VAT on diesel and petrol to 30%. The state legislative assembly had passed a Rs 65,000 crore budget for FY 2020-21, of which Rs 35,500 crore was kept for committed expenditure towards establishment, devolution to local bodies and interest and loan repayment, while Rs 29,500 crore was set off for welfare schemes and infrastructure projects.
"Due to the extraordinary situation, there is a valid need for immediate help from the Centre. The one-time grant of Rs 5,000 crore will help Delhi tide over the immediate crisis," the deputy CM said in his letter, adding that it would facilitate the state government to release grants to civic bodies to pay salaries and meet other expenses.