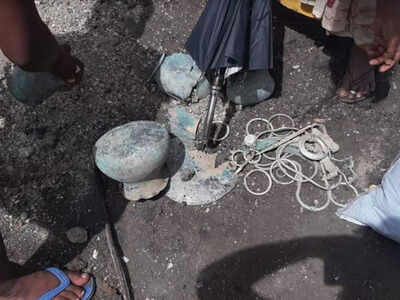 HYDERABAD: A criminal case was registered against a farmer and two others in Pargi of Vikarabad district on Wednesday, after they tried to hid some antiques, which they accidentally stumbled upon on Tuesday. Police seized 80 tolas of silver ornaments besides 8 metal mugs.
Pargi police said that in an agriculture field belonging to one Siddiqui, land levelling works were taken up on Tuesday. While digging the land to make it even they came across three copper and five brass mugs, which were completely dusted. When he and two others looked for what was there inside the metal mugs, they found different ornaments like bangles, anklets, rings and others.
All the three persons after laying their hands over the antiques, decided to own it by distributing among themselves. But it was in the distribution, there were differences among these three persons.
"Due to their differences, we got information about these ancient silver ornaments weighing 80 tolas. We called revenue officials, to whom the seized property was handed over. The revenue officials inturn will give it to Archaeology department on Thursday,'' Pargi inspector Laxmi Reddy told TOI. The officials are yet to ascertain its antique value.
Since Siddiqui and others failed to voluntarily disclose the information about the finding of antiques to the government officials, all three were booked under Indian Treasure Trove Act.
Officials said that two months ago, a similar incident took place in Karankote police station limits when locals found silver coins.